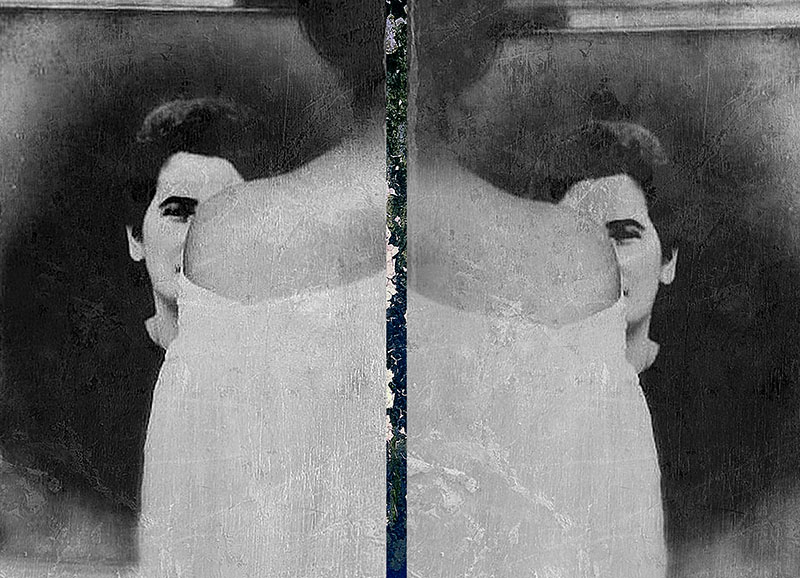 Comment donner formes à la mémoires et à ses racines ? Notre photo bookista Olenka Carrasco nous le dévoile à travers deux superbes et sensibles projets.
(Versión española al final del artículo en francés, english version included below)
Deux points distants. Des centaines de kilomètres entre une ville et l'autre, entre une vie et l'autre. Deux photographes et pratiquement une même image : la métaphore de la construction d'une intimité au travers des feuilles, des troncs, des arbres.
Aujourd'hui, j'aimerais vous parler de la rencontre poétique entre deux photobooks : Secret Garden, de la photographe italienne Alessandra Caló, et Maleza de la photographe chilienne Nía Diedla.
Cette année, j'ai eu la possibilité de feuilleter une infinité de livres de photo lors de mes visites aux Ferias et Festivals, mais je ne m'étais jamais sentie face à un dialogue si cohérent et profond entre deux esthétiques photographiques, entre deux manières de raconter une mémoire, entre deux approches de l'intimité, des souvenirs et de la construction de soi-même.
Pour cette raison, j'ai décidé de m'atteler à la tâche de matérialiser ce dialogue, de servir de médiatrice pour permettre que les deux livres et leurs auteures se rencontrent. En voici le résultat.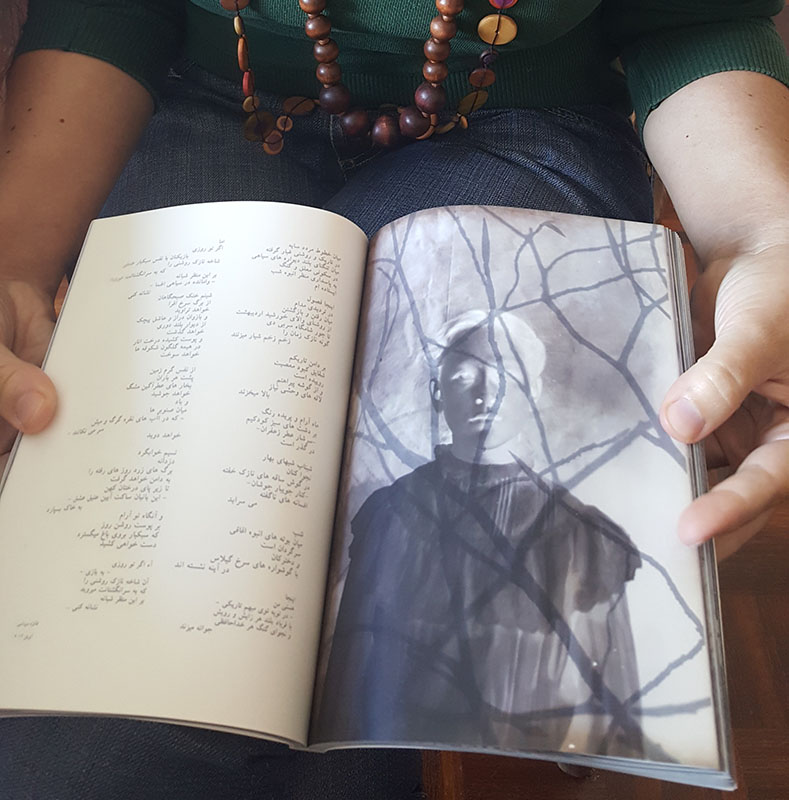 Commençons en Italie : Alessandra Caló (née en 1977) est une photographe qui vit et travaille en Reggio Emilia. « Depuis le début de sa carrière, elle travaille (…) sur des thèmes liés à la mémoire, l'identité et le langage de la photographie », en utilisant le souvenir comme matière première de travail. Depuis 2014, Alessandra commence à collectionner d'anciens négatifs photographiques de femmes anonymes imprimés sur des plaques de verre. Elle court les marchés aux puces de différents endroits du monde, des studios photographiques en voie d'extinction, des collections privées, et réunit plus de 300 plaques. S'inspirant des herbariums, elle utilise les plaques de verre pour construire des « visions arborées » de ces femmes anonymes, elle imagine que la construction intime de chacune d'elles peut se reconstituer dans leur propre jardin ; et puis elle laisse les mots à la responsabilité des auteurs contemporains qui écrivent et décrivent dans un récit l'histoire, une histoire, un souvenir inventé, une identité réappropriée.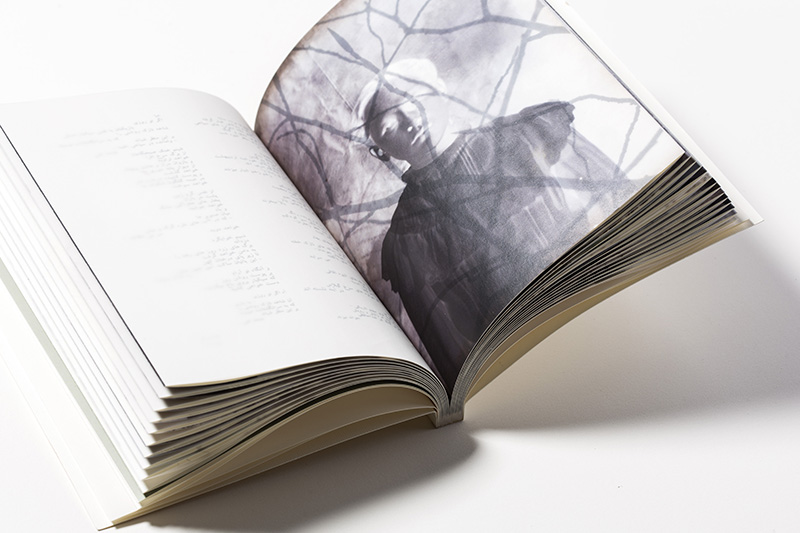 Avec une extrême subtilité, Alessandra choisit chaque papier, imagine la forme, construit la maquette et édite le projet en 2018 avec l'éditeur Danilo Montanari. Le résultat est une perle de 16×20 cm de 106 pages imprimées en 200 exemplaires numérotés (100 en version italienne, 100 en version anglaise) et 10 exemplaires de collection.
Le livre prétend reproduire les jardins secrets de 23 femmes, et le résultat éditorial est d'une suprême délicatesse. Au toucher, le changement de texture, le plaisir de profiter de différents types de papier finement choisis et la forme de reliure qui renferme l'histoire de chaque femme est une réussite.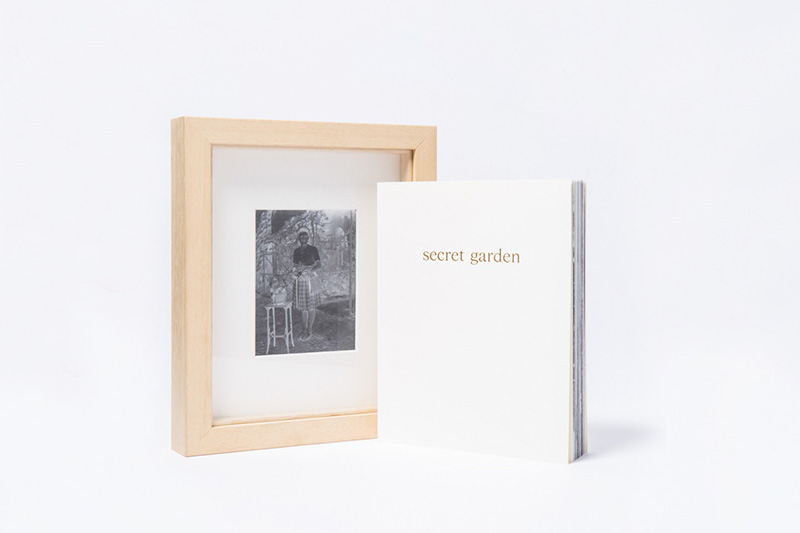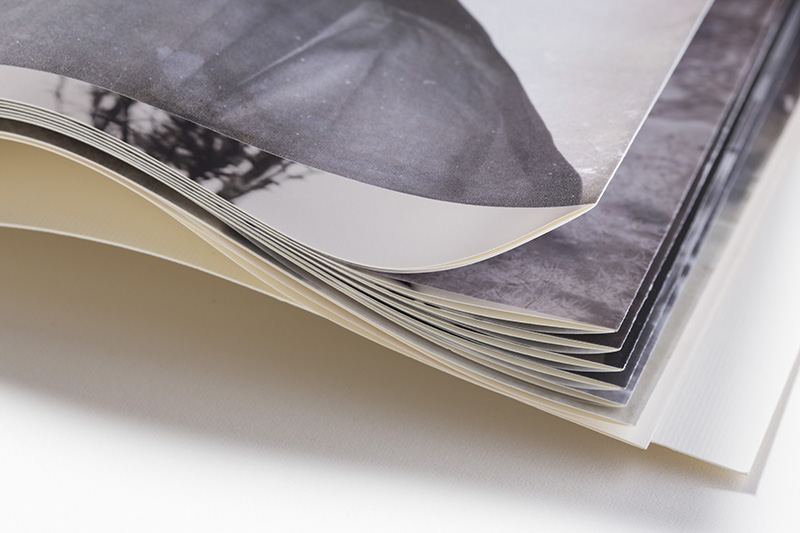 Nous naviguons ainsi, grâce à ce livre, dans la mémoire réappropriée, en voyant croître les racines provenant de figures anonymes qui acquièrent des noms et des dates en revenant à la vie. (Nía navigue dans les pages de Secret Garden sur notre Instagram)
Revenons à Paris, où vit et travaille la photographe Nía Diedla (née en 1979), qui « comme photographe s'intéresse aux absences, aux racines, aux arbres généalogiques, à l'enfance et au souvenir inventé que l'on a d'elle. » En 2015, un accident se produit : sur un portrait tombent de petites fleurs sèches cachant la moitié du visage de Nía, et quand elle l'observe, le mot « Maleza » (mauvaises herbes) résonne en elle : elle avait trouvé le titre d'une collection d'images variées qu'elle accumulait depuis 2009 ; loin de son pays d'origine, le Chili, elle se regardait changer, s'observait entre l'ici et le là-bas, se cherchait dans ses ancêtres, photographiait. À partir de ce titre, Nía a commencé à construire les séries de son projet, les chapitres, tout a commencé à acquérir un nouveau sens, dans le tri constant de ses photographies.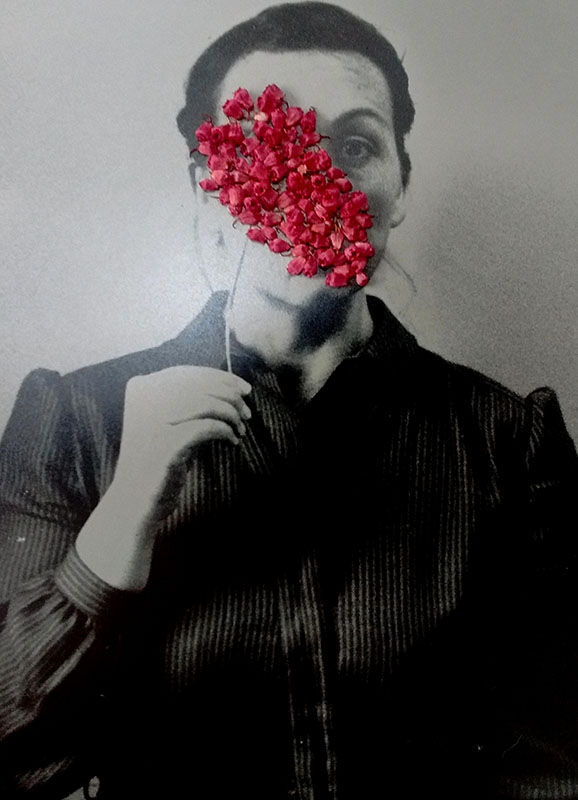 Maleza devient réalité lors d'une première exposition et Nía, passionnée de maquettes, de papiers et de textures, commence à jouer avec la construction d'un livre de photos. Nous avons eu la chance de feuilleter la première de ces maquettes créées.
2018, le projet arrive dans les mains de l'éditeur et photographe chilien Miguel Ángel Felipe Fidalgo, des Ediciones La Visita, qui décide de l'inclure comme titre numéro 15 de la très belle collection appelée « El rectángulo », en hommage au grand photographe chilien Sergio Larraín. Il faudrait s'attarder sur la puissance visuelle des numéros de cette collection, et sur le travail constant et impliqué que réalise Felipe Fidalgo. Chaque petit photolivre est doté d'une personnalité unique. Maleza mesure 11,5×15 cm, a 40 pages, une couverture en carton kraft et des pages intérieures délicieuses au toucher. Le livre voyage du Chili à Paris et est désormais une jolie collaboration transatlantique de 500 exemplaires, bilingues, entre Filigranes et La Visite.
(Alessandra nous montre l'édition de Maleza sur notre Instagram)
Maleza est une recherche introspective de Diedla, une connexion avec ses propres racines, orchestrée par la photographie, une façon de se revoir comme une enfant, marcher dans un champ chilien, en tenant la main d'un papa : c'est l'exil, c'est se sentir mauvaise herbe, qui se coupe mais qui persiste, une fleur qui n'en est pas une, mais dont la tige est résistante.
Lors des Rencontres d'Arles de cette année, Nía et Alessandra se rencontrent chacune dans le livre de l'autre. Entre Cosmos et Summertime, les deux photographes se baladent dans les pages de leurs propres livres, les ajoutent dans la liste de voeux, utilisent Instagram pour parler du travail de l'autre, mais ne se croisent jamais. Moi, au milieu, je découvre les deux œuvres, je les interviewe séparément et en m'asseyant pour feuilleter chacun des livres, je découvre qu'il y a quelque chose qui s'est établi entre elles. Je les invite au dialogue. (Alessandra reçoit mon courrier, Maleza était dans sa liste de voeux depuis les Rencontres d'Arles)
https://www.instagram.com/p/BpcQgWkhE5G/?taken-by=alessandra__calo
Je demande à l'une, Nía : pourrais-tu être l'une des femmes anonymes trouvées sur une plaque de verre d'une brocante par Alessandra ? Complètement, répond-elle.
Quel serait le souvenir qu'Alessandra inventerait sur toi ? Que je me cache, que je fuie, que je me montre par morceaux, et que cette partie qui se révèle de moi est ludique.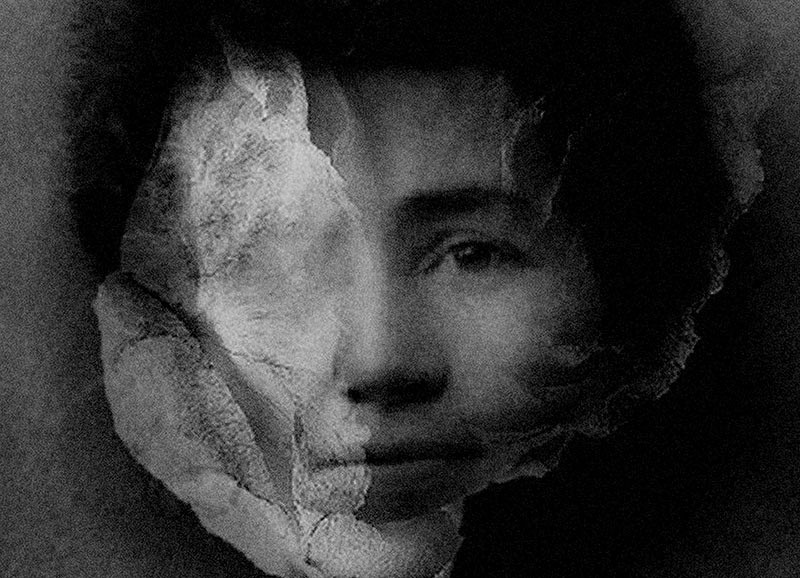 Je demande à l'autre, Alessandra : tu ne trouves pas que Maleza est comme le développement de l'une des histoires de tes femmes anonymes ?
Cette image que Maleza est l'histoire de l'une des femmes qui abandonnent leur jardin pour construire leur propre histoire est parfaite, me répond Alessandra, et elle continue : je pense que dans nos livres, nous avons toutes les deux essayé de parler de quelque chose du passé qu'il est très important de redécouvrir dans le présent. Ce que j'aime le plus de Maleza, c'est cette femme, venue d'un autre temps avec ses draps, ses robes, son miroir, sa chambre, tout se trouve dans une atmosphère de rêve où le Jardin devient un voeu ou un état mental.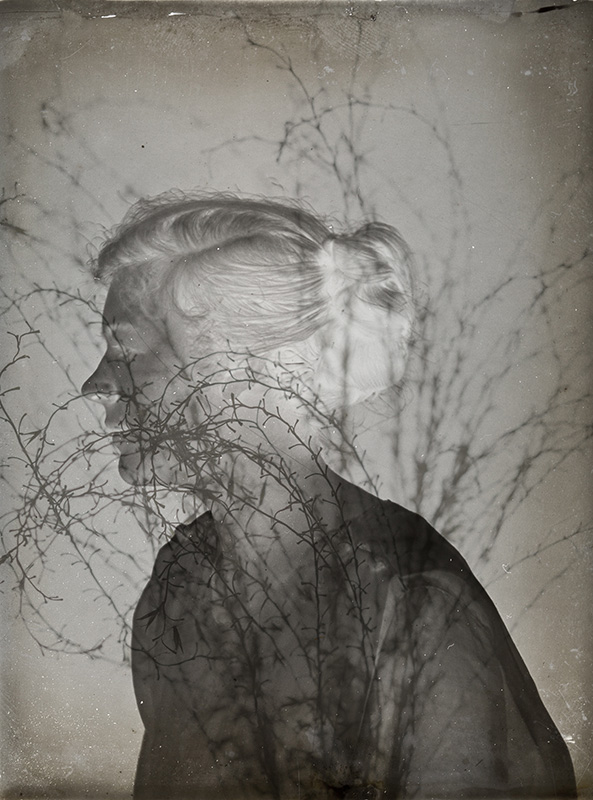 C'est ainsi que la même année, deux livres de photos se rencontrent, en étant conçus à des points distants, mais se parlant et communiquant de loin dans le dos de chacune des auteures. Une preuve qu'il y a quelque chose de supérieur dans nos créations quand nous parlons de la mémoire, des souvenirs ; il y a quelque chose d'universel dans l'intimité : nous sommes tous faits de racines, il n'est donc pas difficile de se rencontrer comme des arbres.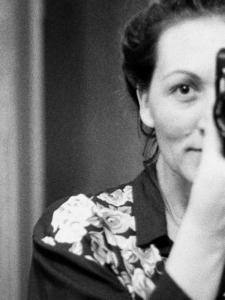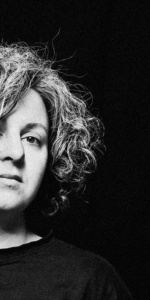 Maleza est disponible sur le site des Ediciones Filigranes et des Ediciones La Visita.
Il sera aussi disponible sur le stand de Filigranes à Paris Photo 2018.
Prix de vente : 10€ sans frais de port.
Secret Garden est disponible sur le site de Danilo Montanari Ediciones, pendant le festival de Paris Photo, vous pourrez le trouver dans Polycopies chez Tipi Books, ainsi que chez Studio Montespechio dans le Paris Vintage Photobook.
Prix de vente : 50 € ou 350€ (Édition Collection) sans frais de port.
Actuellement, une exposition de Secret Garden a lieu dans l'Instituto Italiano de Cultura, à Madrid, du 10 octobre au 20 décembre.
Écrivaine et photographe, Oleñka Carrasco met son accent au service de Viens Voir une fois par mois, pour la découverte de photobooks, livres d'artistes, livres de photo-texte, mais aussi des éditeurs indépendants. Bref, toutes les tendances de l'objet livre. Fanatique de la création d'histoires, elle sera notre guide d'exploration dans le monde des livres.
Reply to: hola@olenkacarrasco.com/ Oleñka est sur Instagram
Versión Española…
El diálogo de los árboles. Encuentro entre Alessandra Caló y Nía Diedla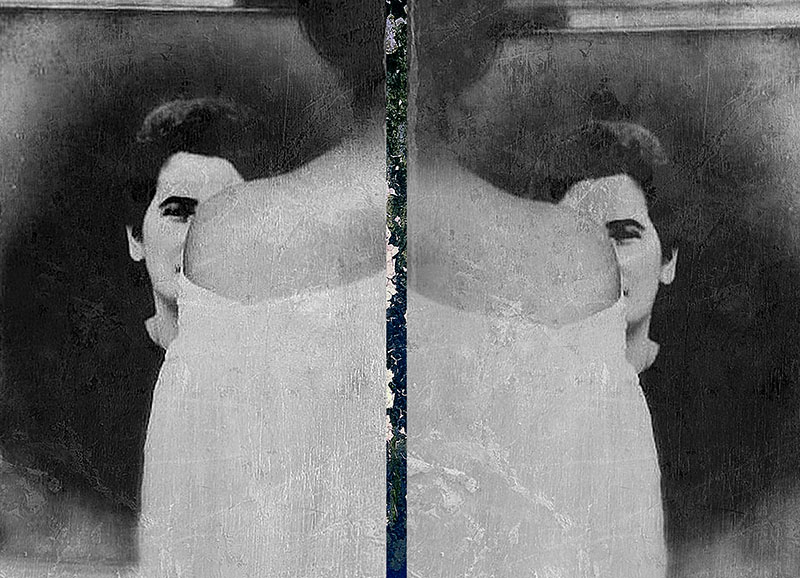 ¿Cómo dar forma a la Memoria y a sus raíces? Nuestra photobookista Oleñka Carrasco nos lo revela a través de dos sensibles y profundos proyectos fotográficos.
(Version française, english version)
Dos puntos equidistantes. Cientos de kilómetros entre una ciudad y otra, entre una vida y otra. Dos fotógrafas y prácticamente una misma imagen: la metáfora de la construcción de una intimidad a través de las hojas, de los troncos, de los árboles.
Hoy, me gustaría hablaros del encuentro poético entre dos fotolibros: Secret Garden, de la fotógrafa italiana Alessandra Caló, y Maleza de la fotógrafa chilena Nía Diedla.
Este año, he tenido la posibilidad de hojear infinidad de libros de fotos a mi paso por Ferias y Festivales, pero en ninguna ocasión, me he sentido frente a un diálogo tan coherente y profundo entre dos estéticas fotográficas, entre dos maneras de contar la memoria, entre dos acercamientos a la intimidad, a los recuerdos y a la construcción de sí mismo.
Por esa razón, decidí acometer la tarea de materializar ese diálogo, de servir de mediadora permitiendo que ambos libros y sus autoras se encuentren. He aquí el resultado.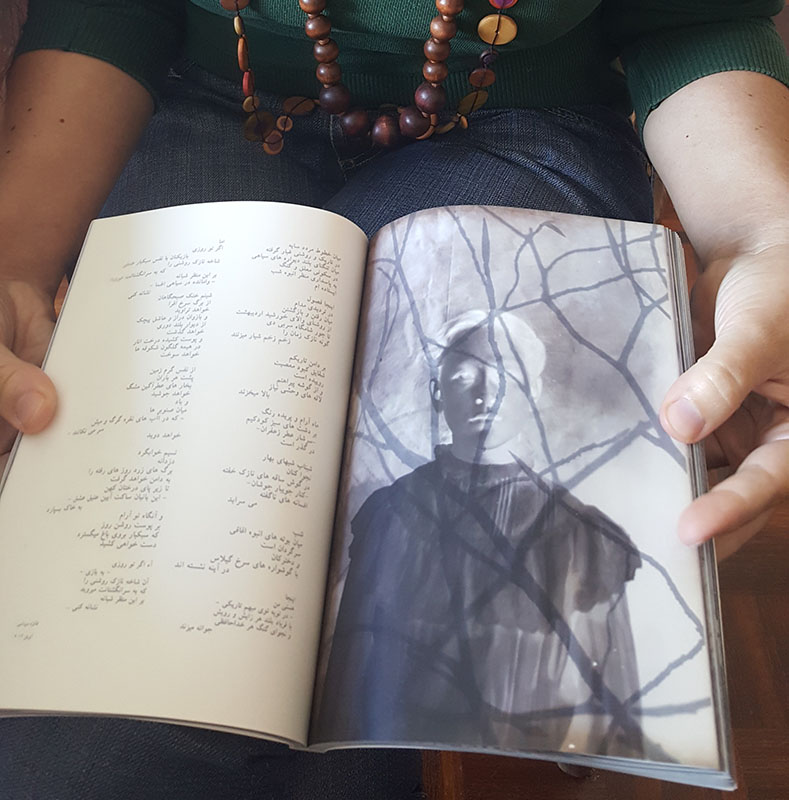 Comencemos en Italia, Alessandra Caló (1977), es una fotógrafa que vive y trabaja en Regio Emilia, Italia. "Desde el inicio de su carrera trabaja (…) en temas relacionados con la memoria, la identidad y el lenguaje de la propia fotografía", utilizando el recuerdo como una materia fundamental de trabajo. Desde el año 2014, Alessandra comienza a coleccionar antiguos negativos fotográficos de mujeres anónimas impresos en placas de vidrio. Recorre mercados de pulgas de distintos lugares del mundo, estudios fotográficos en extinción, colecciones privadas y reúne más de 300 placas. Inspirada en los herbarios, utiliza las placas de vidrio para construir "visiones arbóreas" de esas mujeres anónimas, ella imagina que la construcción íntima de cada una de ellas puede reconstituirse en un jardín propio, luego, deja las palabras a cargo de autoras contemporáneas que escriben y describen en un relato la historia, una historia, un recuerdo inventado, una identidad re-apropiada.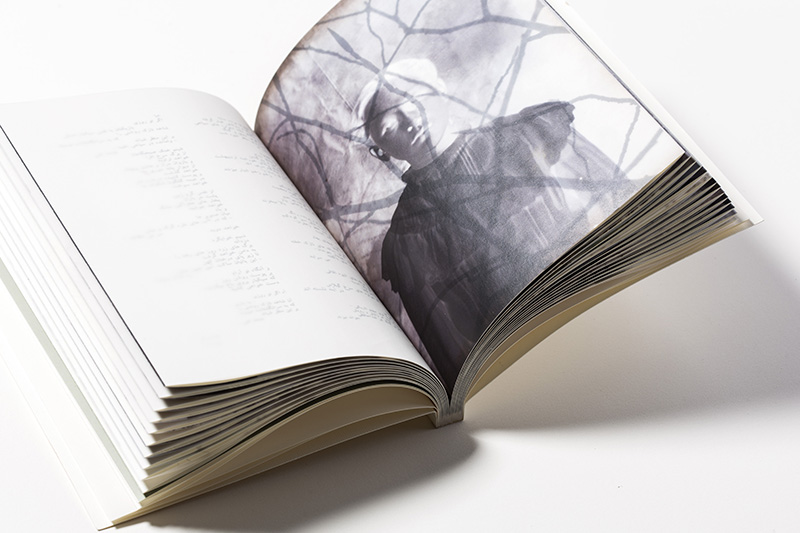 Con una sutileza extrema, Alessandra, escoge cada papel, imagina la forma, construye la maqueta y edita el proyecto en 2018 junto al editor Danilo Montanari. El resultado es una perla de 16x20cms de 106 páginas impresa en 200 ejemplares numerotados (100 en versión italiana, 100 en versión inglesa) y 10 ejemplares de colección.
El libro pretende reproducir los jardines de 23 mujeres, y el resultado editorial es de una delicadeza suprema. Al tacto, el cambio de textura, el placer de disfrutar de los distintos papeles finamente escogidos y la forma de encuadernación que encierra la historia de cada mujer es un acierto.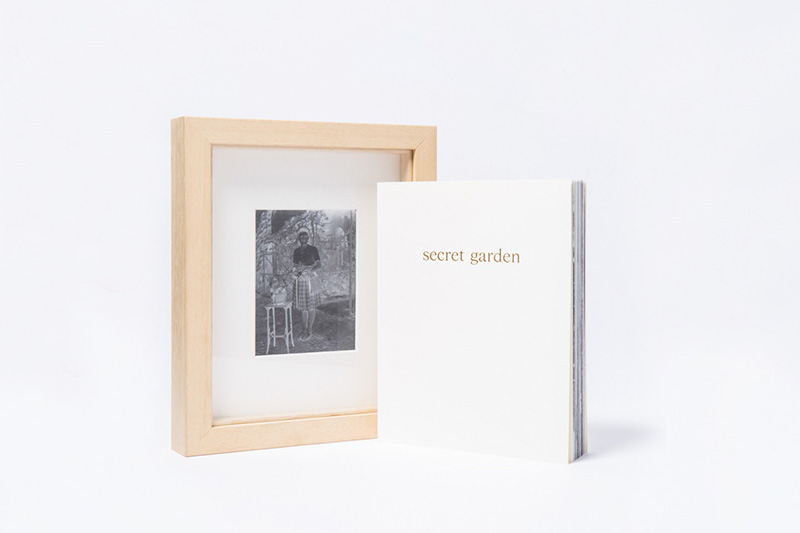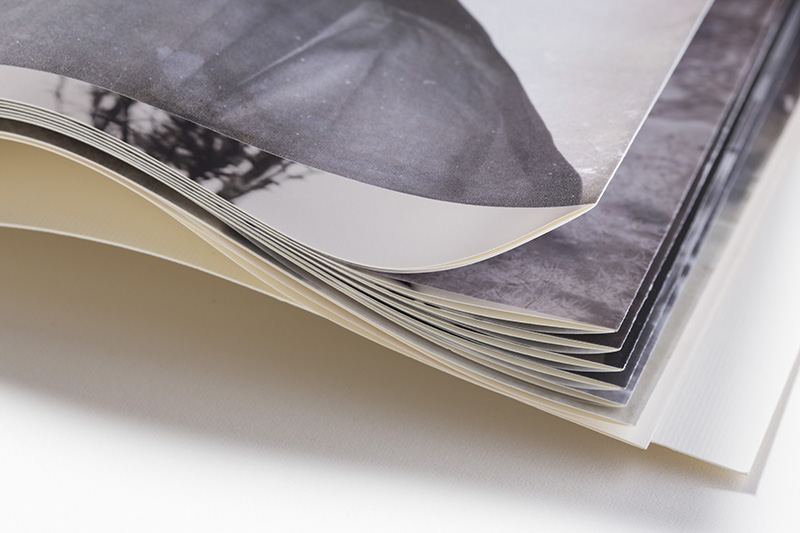 Navegamos entonces, gracias a este libro, en la memoria reapropiada, viendo crecer las raíces provenientes de figuras anónimas que adquieren nombres y fechas volviendo a la vida. (Nía navega en las páginas de Secret Garden en nuestra cuenta Instagram)
Volvemos a París, donde vive y trabaja la fotógrafa Nia Diedla (1979) quien "como fotógrafa se interesa por la ausencia, las raíces, los árboles genealógicos, la infancia y el recuerdo inventado que tenemos de ella". En el año 2015, un fortuito accidente se produce: sobre un autorretrato caen unas florecillas secas ocultando la mitad del rostro de Nia, cuando ella lo observa el nombre Maleza resuena en su interior, había encontrado título a una colección de imágenes varias que acumulaba desde el año 2009; lejos de su país de origen (Chile) ella se miraba cambiar, se observaba entre el aquí y el allá, se buscaba en sus antepasados, fotografiaba. A partir del título, Nía comenzó a construir las series de su proyecto, los capítulos, todo adquirió un nuevo sentido en el triaje constante de sus fotografías.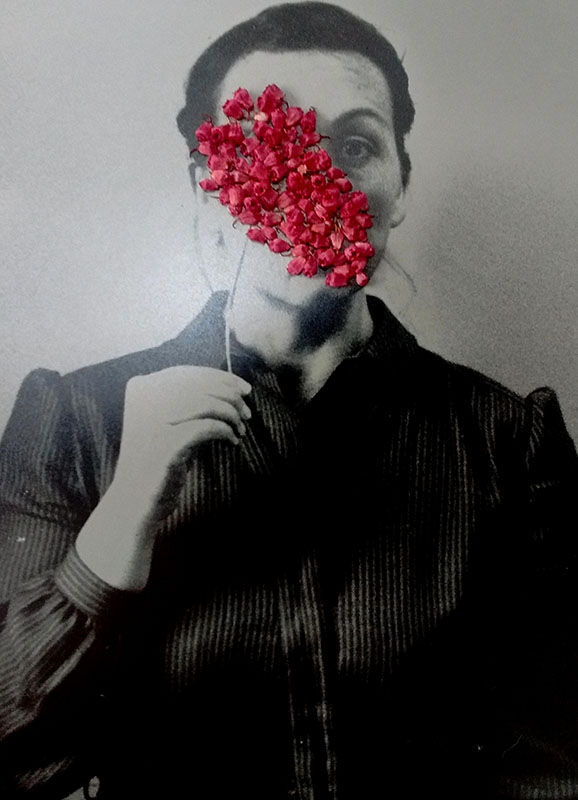 Maleza, que significa Mala Hierba, se vuelve realidad en una primera exposición y Nía, apasionada de las maquetas, los papeles y las texturas, comienza a jugar con la construcción de un libro de fotos. Tenemos la suerte de hojear la primera de las maquetas creadas…
2018, el proyecto llega a manos del editor y fotógrafo chileno Miguel Ángel Felipe Fidalgo, de Ediciones La Visita, quien decide incluirlo como el título nº15 de la preciosa colección llamada "El rectángulo", en homenaje al gran fotógrafo chileno Sergio Larraín. Convendría detenerse en la potencia visual de los números de esta colección, y en el trabajo constante y sosegado que realiza Felipe Fidalgo. Cada pequeño fotolibro está dotado de una personalidad única. Maleza, mide 11,5 x 15 cms, tiene 40 páginas, una cobertura en cartón kraft, y unas páginas interiores deliciosas al tacto. El libro viaja de Chile a París y ahora es una bonita colaboración transatlántica de 500 ejemplares, bilingües, entre Filigranes et La Visite.
(Alessandra nos muestra la edición de Maleza en nuestra cuenta Instagram)
Maleza es una búsqueda introspectiva de Diedla, una conexión con las raíces propias orquestada por la fotografía, un volverse a ver de niña caminando en un campo chileno de la mano de un padre, es el exilio, es sentirse mala hierba, que se poda pero que persiste, una flor que no es tal pero cuyo tallo es resistente.
En los Rencontres d'Arles de este año, Nía y Alessandra se encuentran cada una en el libro de la otra, entre Cosmos y Summertime ambas fotógrafas se pasean en las páginas de sus propios libros, los ponen en la lista de deseos, utilizan instagram para hablar del trabajo de la otra pero jamás se cruzan. Yo, en el medio, descubro ambos trabajos, las entrevisto por separado y al sentarme a hojear cada libro descubro que hay algo que se ha establecido entre ellas. Las invito al diálogo.
(Alessandra recibe mi correo postal, Maleza estaba en su lista de libros a comprar desde los Rencontres d'Arles)
Le pregunto a una, Nía : ¿podrías tú ser una de las mujeres anónimas encontradas en una placa de vidrio de una brocante por Alessandra? Completamente, me responde.
¿Cuál sería el recuerdo que Alessandra inventaría sobre ti? Que me escondo, que huyo, que me muestro por pedazos, y que esa parte que se revela de mí es lúdica.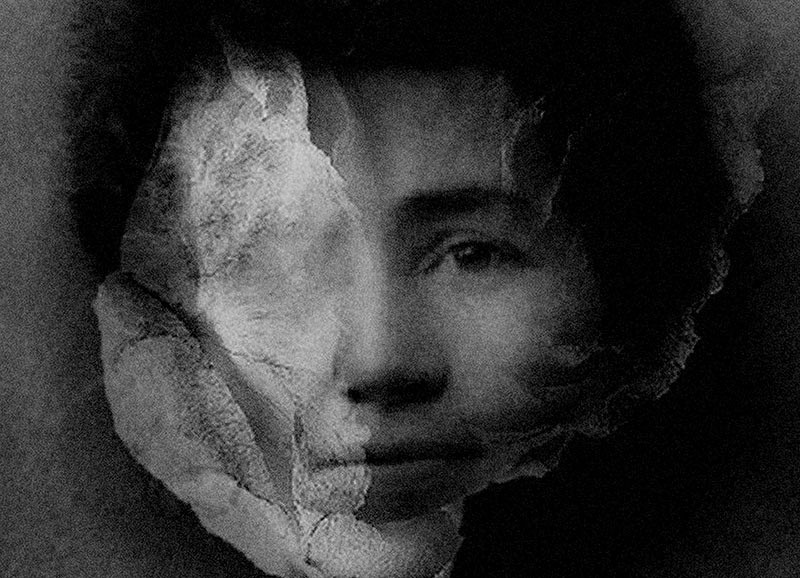 Le pregunto a la otra, Alessandra : ¿no te parece que Maleza es como el desarrollo de una de las historias de tus mujeres anónimas?
Esta imagen de que Maleza es la historia de una de las mujeres que abandona su jardín para construir su propia historia es perfecta, me responde Alessandra, y continúa diciendo, pienso que ambas en nuestros libros intentamos hablar de algo del pasado que es muy importante re-descubrir en el presente. Lo que más me gusta de Maleza es que esta mujer, venida de otro tiempo con sus sábanas, sus vestidos, su espejo, su habitación, todo se encuentra en una atmósfera de ensueño en el que el Jardín se vuelve un deseo o un estado mental.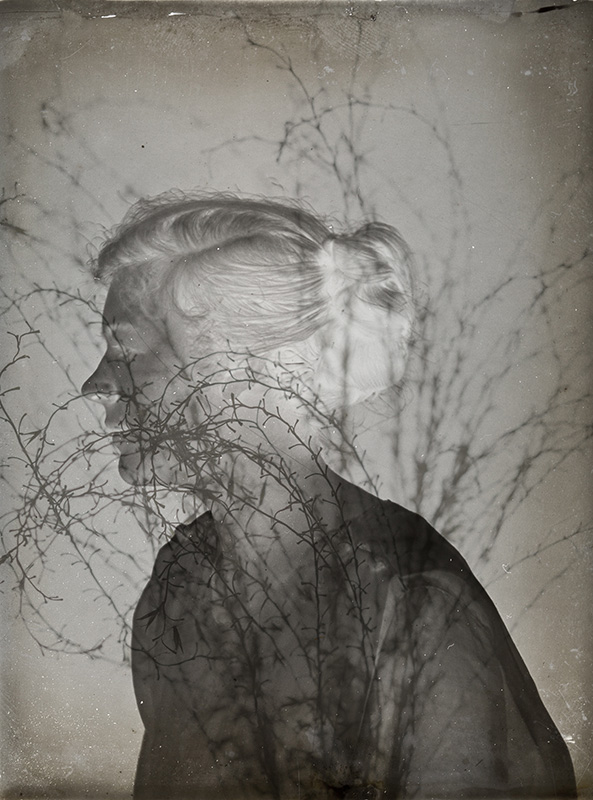 Es así como, en el mismo año, dos libros de foto se encuentran, siendo concebidos en puntos equidistantes, pero hablándose y comunicándose desde lejos a espaldas de sus propias autoras. Una muestra de que hay algo superior a nuestras creaciones cuando hablamos de la memoria, de los recuerdos, hay algo universal en la intimidad: todos estamos hechos de raíces, entonces, no es difícil encontrarse como árboles.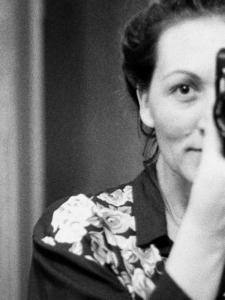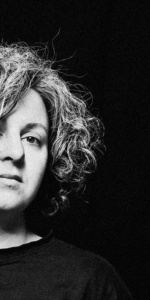 Maleza está disponible en la web de Ediciones Filigranes y de Ediciones La Visita.
También estará disponible en el stand de Filigranes en Paris Photo 2018.
Precio de venta: 10€ sin gastos de envío.
Secret Garden está disponible en la web de Danilo Montanari Ediciones, durante el Festival Paris Photo, lo podréis encontrar en Polycopies en el stand de Tipi Books, así como en la Photo Paris Vintage Fair.
Precio de venta: 50 € o 350€ (Edición Colección) sin gastos de envío.
Actualmente, una exposición de Secret Garden tiene lugar en el Instituto Italiano de Cultura, en Madrid, del 10 de octubre al 20 de diciembre.
Escritora y fotógrafa, Oleñka Carrasco pondrá su acento al servicio de Viens Voir una vez al mes para descubrir fotolibros, libros de artistas, libros de foto-texto, así como editores independientes y festivales. Su principal interés: las tendencias del libro como objeto. Fanática de contar historias, ella se volverá nuestra guía de exploración en el descubrimiento del mundo de los libros.
Reply to: hola@olenkacarrasco.com/ Oleñka está en Instagram
English Version…
The dialogue of the trees. Alessandra Calò and Nía Diedla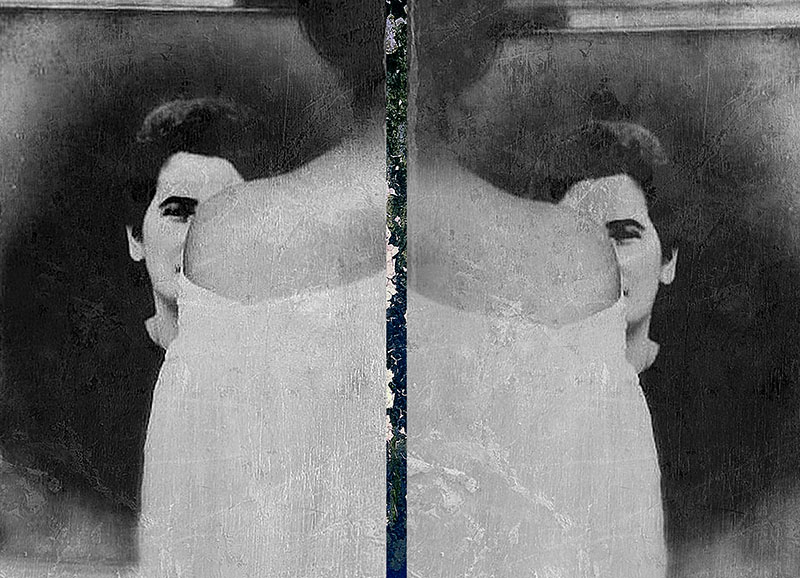 How to shape Memory and its roots? Our photobookist Oleñka Carrasco reveals it to us through two sensitive and profound photographic projects.
(Version française, Versión Española)
Two points equidistant. Hundreds of kilometres between one city and another, between one life and another. Two photographers and practically the same image: the metaphor of the construction of an intimacy through the leaves, the trunks, the trees.
Today, I would like to talk to you about the poetic encounter between two Secret Garden photobooks by the Italian photographer Alessandra Caló and Maleza by the Chilean photographer Nia Diedla.
This year, I have had the possibility of leafing through an infinite number of photo books as I pass through Fairs and Festivals, but on no occasion have I felt myself faced with such a coherent and profound dialogue between two photographic aesthetics, between two ways of counting memory, between two approaches to intimacy, memories and the construction of oneself.
For this reason, I decided to undertake the task of materializing this dialogue, of serving as a mediator allowing both books and their authors to meet. Here is the result.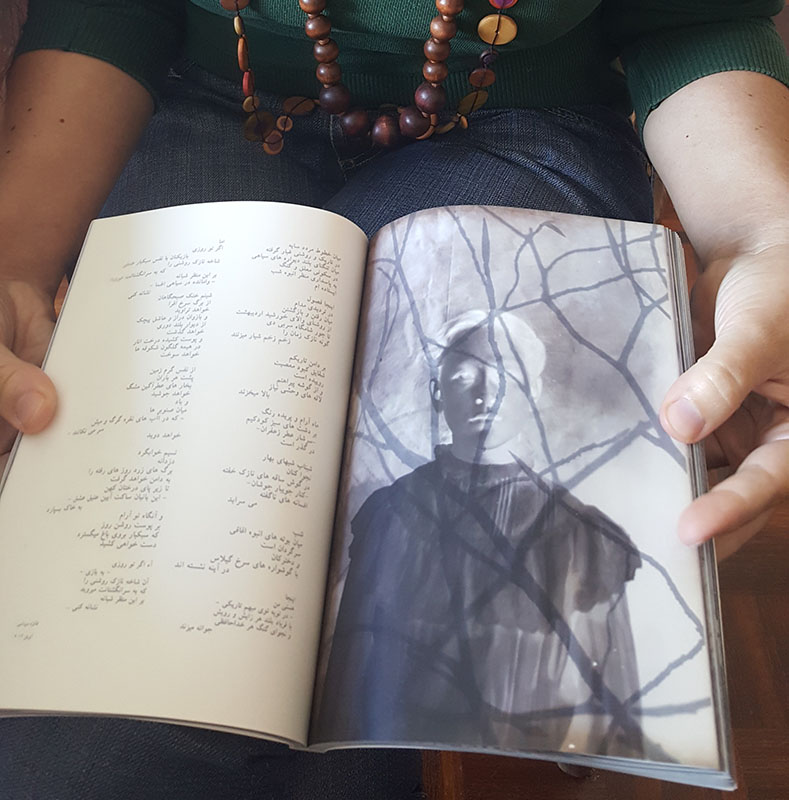 Starting in Italy, Alessandra Caló (1977), is a photographer who lives and works in Regio Emilia, Italy. « Since the beginning of her career she has worked (…) on subjects related to memory, identity and the language of photography itself », using memory as a fundamental matter of work. Since 2014, Alessandra begins to collect old photographic negatives of anonymous women printed on glass plates. She visits flea markets around the world, endangered photographic studios, private collections and gathers more than 300 plates. Inspired by herbariums, she uses glass plates to build « tree visions » of these anonymous women, she imagines that the intimate construction of each of them can be reconstituted in her own garden, then leaves the words in charge of contemporary authors who write and describe in a narrative the history, a history, an invented memory, a re-appropriated identity.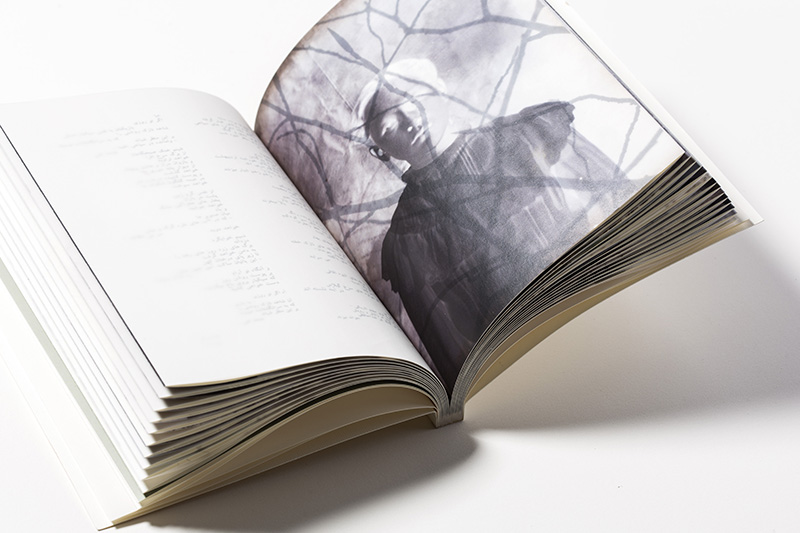 With extreme subtlety, Alessandra chooses each paper, imagines the form, builds the model and edits the project in 2018 together with the publisher Danilo Montanari. The result is a pearl of 16x20cms of 106 pages printed in 200 numbered copies (100 in Italian version, 100 in English version) and 10 copies of collection.
The book aims to reproduce the gardens of 23 women, and the editorial result is one of supreme delicacy. To the touch, the change of texture, the pleasure of enjoying the different papers finely chosen and the form of binding that contains the history of each woman is a success.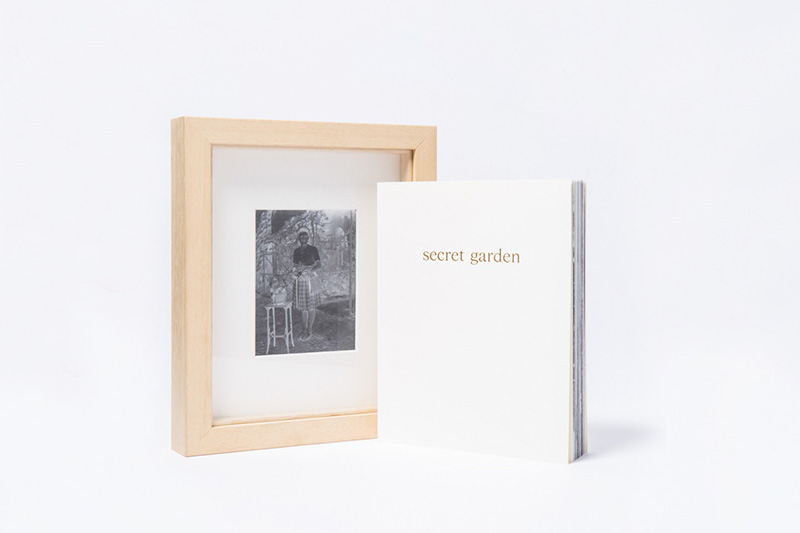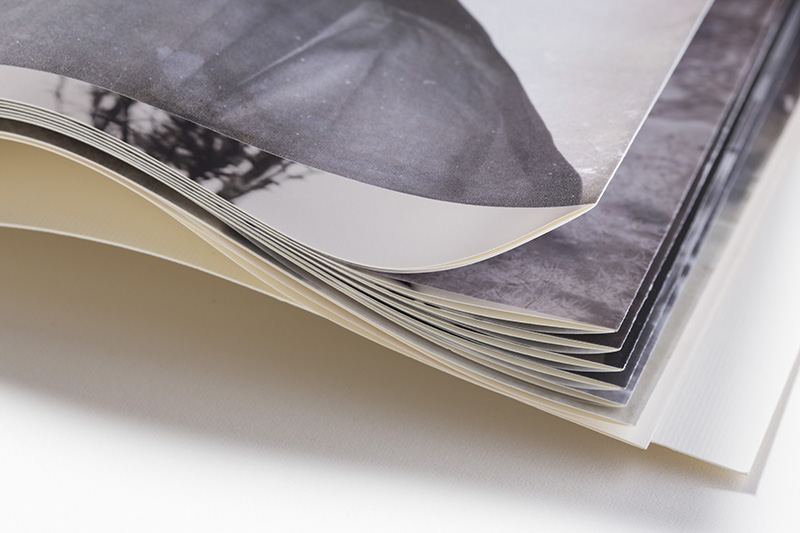 We sail then, thanks to this book, in the re-appropriated memory, seeing the roots grow coming from anonymous figures that acquire names and dates returning to life. (Nía reading Secret Garden on our account Instagram)
We return to Paris, where the photographer Nia Diedla (1979) lives and works, who « as a photographer is interested in absence, roots, genealogical trees, childhood and the invented memory we have of her ». In the year 2015, a fortuitous accident takes place: on a self-portrait fall some dry flowers hiding the half of the face of Nia, when she observes it the name Maleza resounds in her interior, she had found title to a collection of several images that accumulated from the year 2009; far from her country of origin (Chile) she watched herself change, was observed between here and there, was looked for in her ancestors, photographed. From the title, Nía began to construct the series of her project, the chapters, everything acquired a new sense in the constant triage of her photographs.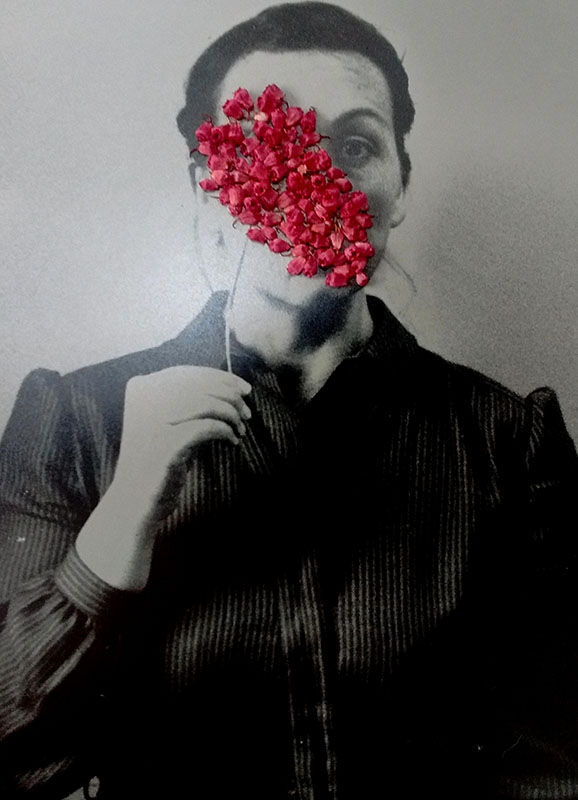 Maleza, which means weed, becomes reality in a first exhibition and Nía, passionate about models, papers and textures, begins to play with the construction of a book of photos. We are lucky enough to leaf through the first of the models created…
2018, the project reaches the hands of the Chilean editor and photographer Miguel Ángel Felipe Fidalgo, of Ediciones La Visita, who decides to include it as title nº15 of the precious collection called « El rectángulo », in homage to the great Chilean photographer Sergio Larraín. It would be convenient to stop in the visual power of the numbers of this collection, and in the constant and calm work that Felipe Fidalgo carries out. Each small photobook is endowed with a unique personality. Maleza, measuring 11.5 x 15 cms, has 40 pages, a cover in kraft cardboard, and some delicious inner pages to the touch. The book travels from Chile to Paris and is now a beautiful transatlantic collaboration of 500 bilingual copies between Filigranes and La Visite.
(Alessandra show us Maleza in our account Instagram)
Maleza is an introspective search for Diedla, a connection with one's own roots orchestrated by photography, to see oneself again as a child walking in a Chilean countryside with a father's hand, is exile, is to feel bad weed, pruned but that persists, a flower that is not such but whose stem is resistant.
In this year's Rencontres d'Arles, Nía and Alessandra meet in each other's book, between Cosmos and Summertime both photographers stroll through the pages of their own books, put them on the wish list, use instagram to talk about each other's work but never cross paths. I, in the middle, discover both works, I interview them separately and as I sit down to leaf through each book I discover that there is something that has been established between them. I invite them to dialogue.
(Alessandra show my post mail, Maleza was in her wishlist since Rencontres d'Arles)
I ask one, Nia: could you be one of the anonymous women found on a glass plate of a brocante by Alessandra? Completely, she answers me.
What would be the memory that Alessandra would invent about you? That I hide, that I run away, that I show myself in pieces, and that the part that reveals itself about me is playful.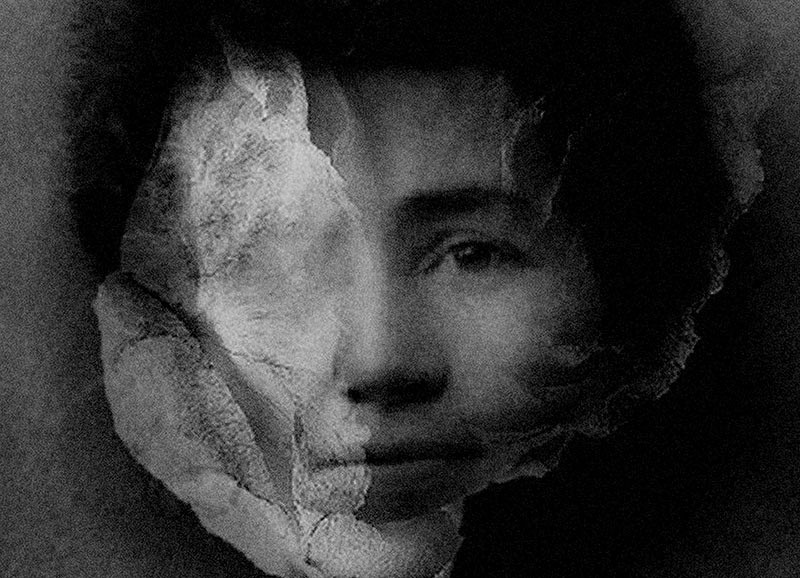 I ask the other one, Alessandra, don't you think that Maleza is like the development of one of your anonymous women's stories?
This image that Maleza is the story of one of the women who leaves her garden to build her own story is perfect, Alessandra responds to me, and goes on to say, I think that both of us in our books try to talk about something from the past that is very important to rediscover in the present. What I like most about Maleza is that this woman, who has come from another time with her sheets, her dresses, her mirror, her room, everything is found in a dreamlike atmosphere in which the Garden becomes a desire or a state of mind.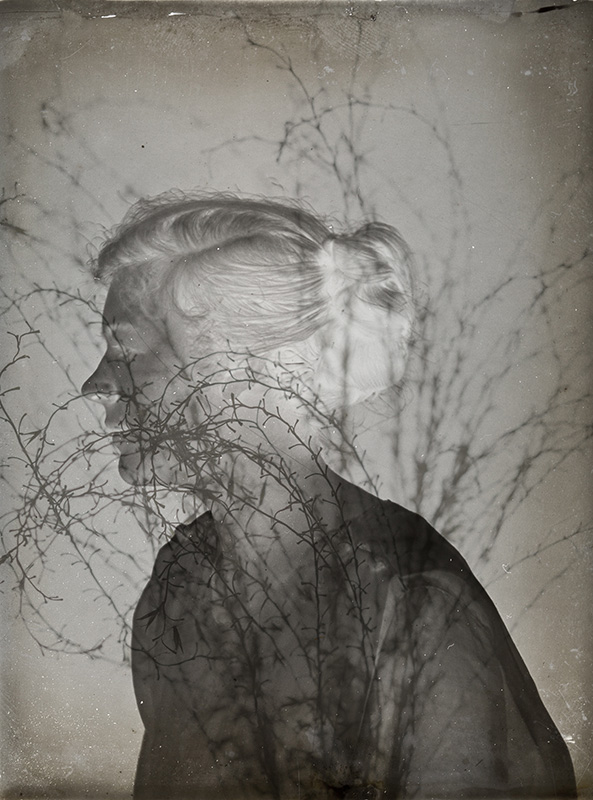 Thus, in the same year, two photo books meet, being conceived in equidistant points, but speaking and communicating from afar behind the backs of their own authors. A sign that there is something superior to our creations when we speak of memory, of memories, there is something universal in intimacy: we are all made of roots, so it is not difficult to find ourselves as trees.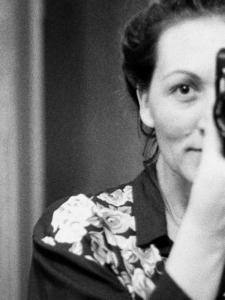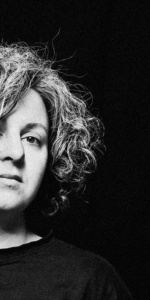 Maleza is available on the web de Ediciones Filigranes and Ediciones La Visita.
It will also be available at the Filigranes stand at Paris Photo 2018.
Selling price: 10€ without shipping costs.
Secret Garden is available on the web de Danilo Montanari Ediciones, during the Paris Photo festival you can find it at Polycopies stand of Tipi Books, and at the Photo Paris Vintage Fair.
Selling price: 50€ without shipping costs.
A sample of Secret Garden is currently on display at the Italian Institute of Culture in Madrid, from 10 October to 20 December.
Writer and photographer, Oleñka Carrasco will put her emphasis on the service of Viens Voir once a month, for the discovery of photobooks, artists' books, photo-text books, but also independent publishers. In short, all trends of the book object. Fanatic about creating stories, she will be our guide to exploring the world of books.
Reply to: hola@olenkacarrasco.com/ Oleñka is on Instagram