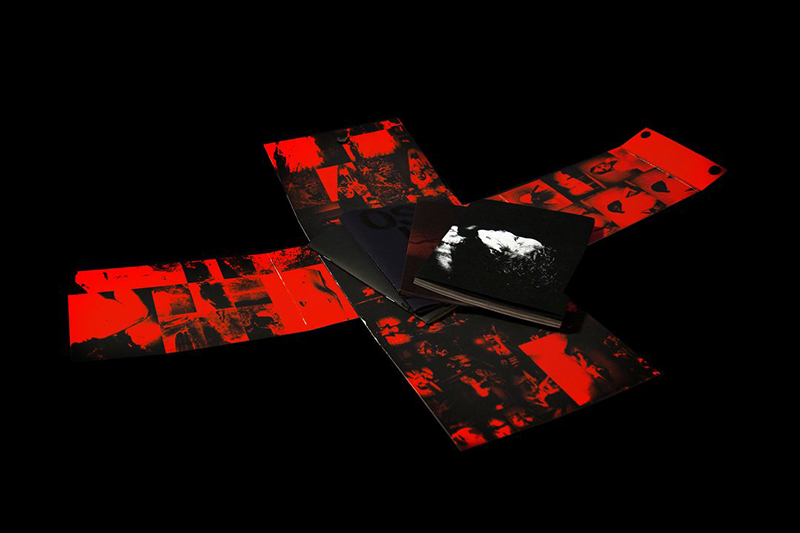 Projet fou ou bijou éditorial : les photos sud-américaines d'Antoine D'Agata rejouées conjointement par six éditeurs.
(Versión española al final del artículo en francés, english version included below) 
La fin de septembre et Amsterdam nous reçoivent avec un froid et une pluie considérables. Depuis deux jours, dans cette édition 2018 à Unseen, nous nous agglutinons dans les espaces de la Westergasfabriek. Je me balade dans l'espace des livres, cherche des perles parmi les Dummies de cette année, je revois les amis des maisons d'édition connues… Jusqu'à ce que quelque chose attire mon attention. Un stand plein de couleurs trop vives, des visiteurs et des photographes qui expliquent leurs livres. C'est ainsi que j'ai découvert Inframundo, et j'ai presque immédiatement su que je tenais mon coup de coeur éditorial du Festival.
Inframundo est une maison d'édition qui naît au Mexique en 2016, se basant sur le merveilleux projet Incubadora de Fotolibros ("Incubateur de livres photos") lancé par Hydra.
Mais commençons par le début. Hydra est une plateforme pour générer des projets liés au média de la photographie, basée sur la réflexion, le dialogue et la collaboration entre personnes, associations, institutions et maisons d'édition. Un espace intégrateur, flexible et ouvert pour ouvrir des canaux dans la communauté photographique."Un espace polyvalent qui fait battre la photographie dans le coeur de la capitale mexicaine. L'un de ses artificiers principaux est la photographe Ana Casas Broda, avec qui j'ai eu une connexion immédiate ; le temps qu'il nous restait dans le festival était insuffisant, et elle m'a promis qu'elle viendrait à Paris Photo cette année avec une grande surprise… Et que ce serait notre moment !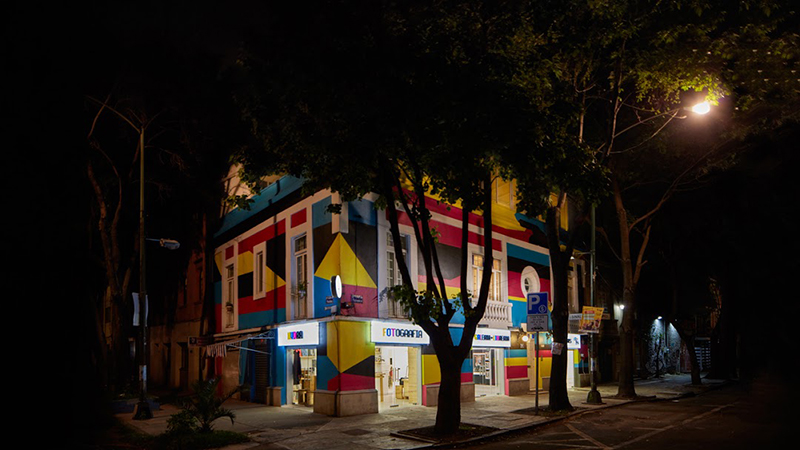 J'étais enflammée : j'avais déjà l'impression que les éditions numérotées qu'ils amenaient à Unseen était un cadeau, avec leurs formats novateurs mais parfaitement lisibles, les travaux puissants de tants de photographes latino américains qui ne nous parviennent pas…
Que pouvaient-ils bien préparer ?
Paris Photo est arrivé, nous nous rencontrons à nouveau, et je découvre Oscurana.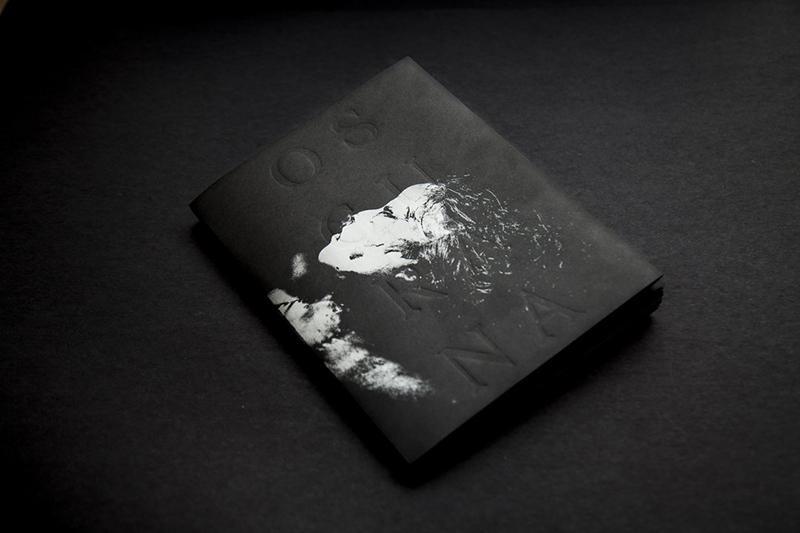 Oscurana est une jolie boîte complètement dessinée par Ramón Pez pour Inframundo, avec une finition en papier kraft et des impressions photographiques intérieures super contrastées en rouge et noir. A l'intérieur, six livres et un manifeste. Cette boîte de surprises est une édition spéciale de 100 exemplaires qui contient ni plus ni moins que le recueil de 35 ans de travail photographique d'Antoine D'Agata en Amérique latine.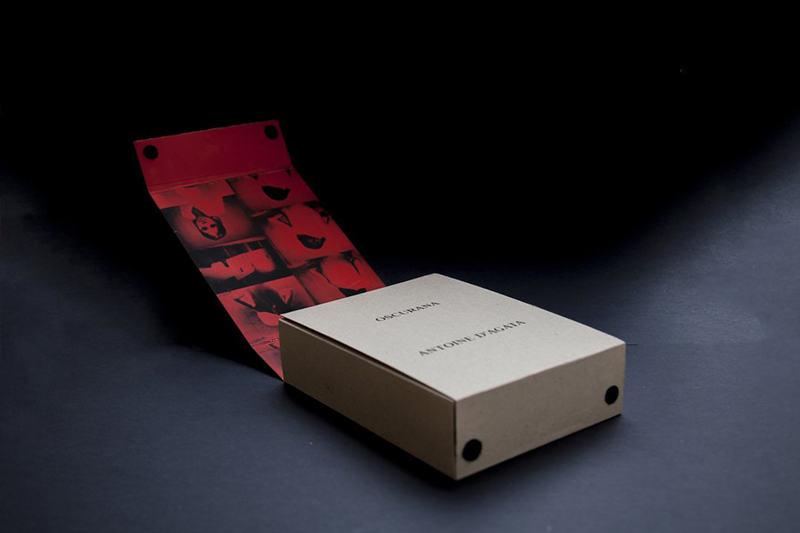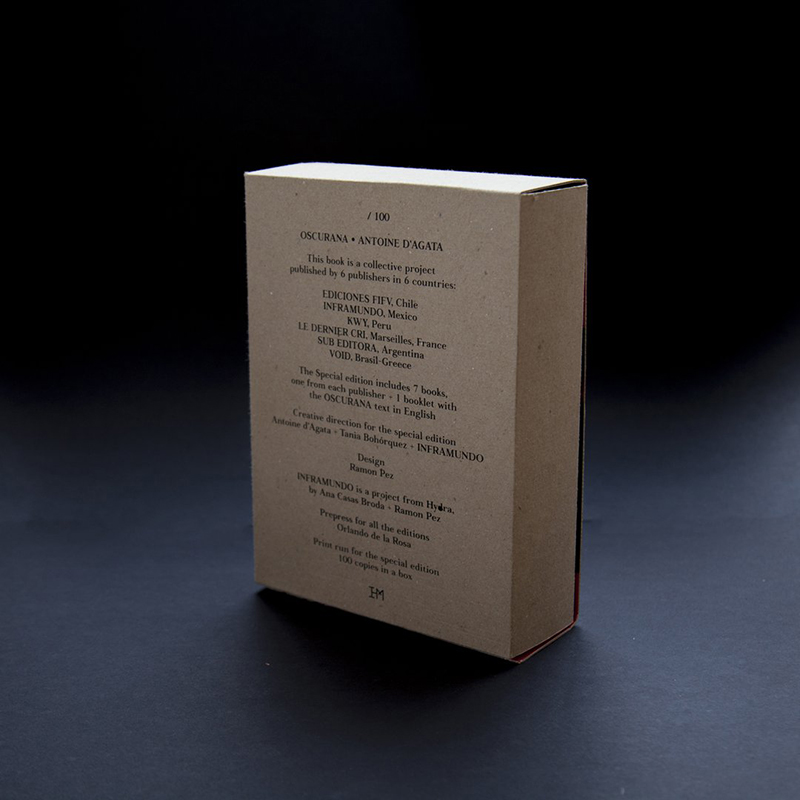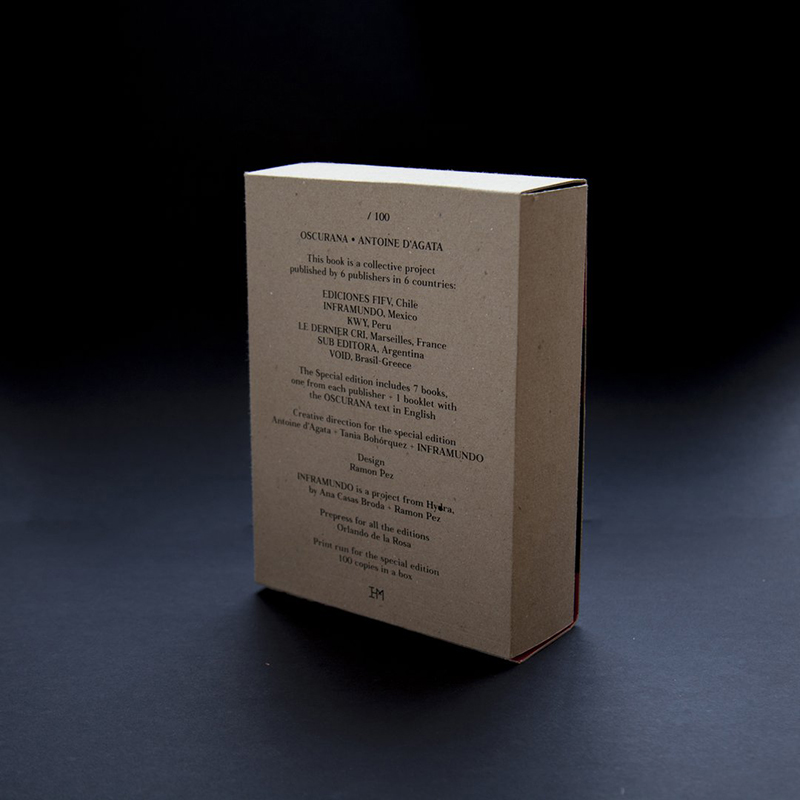 Mais Antoine D'Agata est un photographe qui compte de nombreux types de livres photos : qu'a donc Oscurana de différent, de spécial ?
Dans un concours de circonstances, Ana Casas découvre que D'Agata est très intéressé par l'interprétation que pourraient faire différentes maisons d'édition de son travail. Elle se rend compte qu'il cherche depuis longtemps à s'embarquer dans un projet collectif dans lequel de petites maisons d'édition de différents endroits d'Amérique latine produiraient un même livre de manière locale.
Antoine D'Agata a le contenu, Inframundo coordonne le contenant. Et c'est ainsi que six maisons d'édition s'embarquent dans l'aventure d'éditer et interpréter chacune à sa manière un livre qui contient ces 35 ans de photographie de D'Agata.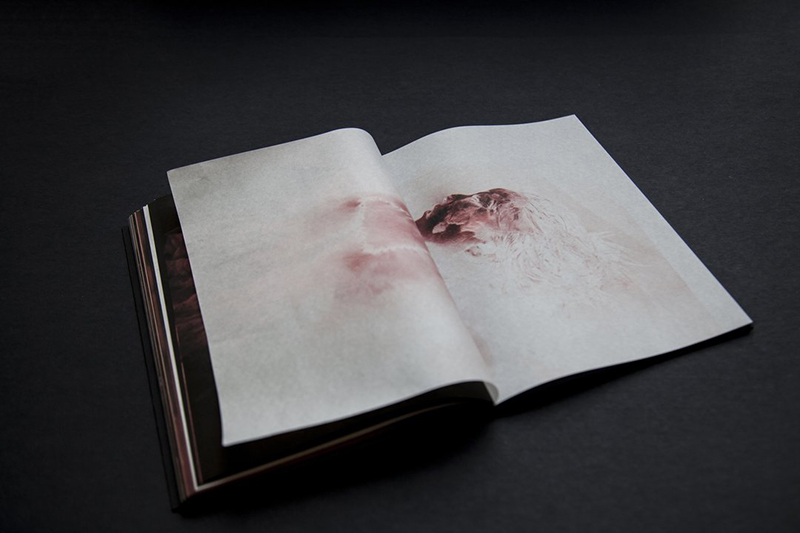 Chaque livre se produit de manière locale, avec des matériaux autochtones, des designers et des papiers propres de chaque pays, avec comme seules règles : la taille et le même corpus d'images. Les six maisons d'édition peuvent décider avec quelles images du corpus travailler ainsi que le traitement à appliquer à chaque image, tout en suivant la ligne narrative de leur projet.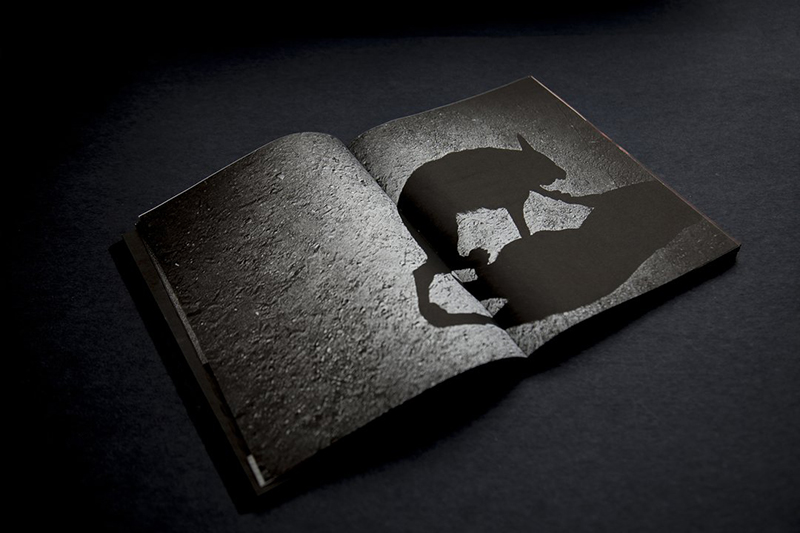 Depuis chaque pays, chaque maison d'édition comptait quelques mois pour travailler sur son livre ; la date de sortie et le point de rencontre de chacun de ces livres était Paris Photo, et c'est dans le cadre de ce festival qu'elles se rencontreraient enfin pour que chaque livre devienne un tout dans la boîte d'Inframundo.
C'est ainsi qu'EDICIONES FIFV (Chili), KWY (Pérou), LE DERNIER CRI (France), SUB EDITORA (Argentine) et VOID (Brésil, Grèce), ainsi que INFRAMUNDO (Mexique), qui les coordonne, parviennent à réunir leurs 47 premiers exemplaires d'un livre unique qui parviennent à se vendre dans leur totalité à Paris Photo.
Ana nous montre et explique (en espagnol) le livre depuis le stand de la Librería Madalena.
Parmi les particularités de chaque édition, Ana me raconte que Sub Editora a travaillé sur son livre en risographie ; Inframundo a travaillé sur son exemplaire en jet d'encre et imprimé dans une combinaison très spéciale de papiers mexicains uniques, tandis que les quatre autres ont travaillé en OffSet.
Je me demande s'il y a des images de D'Agata qui se répètent, ce à quoi Ana répond que oui, mais chaque fois avec un traitement différent.
-Ana, pourquoi D'Agata ?
-En plus du respect que j'ai pour son oeuvre, cela a été merveilleux de nous rencontrer à un moment où son travail dialoguait avec ce besoin immense de collaborer dans un projet éditorial collectif.
-Alors ce format peut à nouveau être utilisé avec un autre livre.
-Non, pas du tout : ce livre, ce sont 100 exemplaires faits de cette manière, car ils coïncident avec nos propres recherches – celle du photographe, la nôtre – mais même si notre intérêt est de continuer à travailler pour la stimulation de la création éditoriale locale, chaque livre a sa propre personnalité et sa façon d'être montré. Nous ferons d'autres projets collectifs, oui, mais il faudra attendre pour découvrir quelle forme ils auront.

Découvrir les beaux projets pédagogiques de Hydra ; savoir que chaque année un appel à candidature international de l'Incubadora de Fotolibros est ouvert et dans lequel coïncident des acteurs importants du monde de l'édition de livres photo à niveau mondial (Lukas Birk, Bruno Ceschel, Miguel Ángel Esteban, Yumi Goto, Calin Kruse, Álvaro Matías, Alfonso Morales, Ramon Pez, Timothy Prus, Ramón Reverté, Markus Schade, Juan Valbuena) au Mexique ; feuilleter chacun des projets qui, en passant par cette Incubatrice, se transforment en d'authentiques livres photo uniques d'Inframundo ; et assister à la confluence de petites maisons d'édition qui franchissent de façon locale toutes les difficultés que comporte l'impression d'un livre en Amérique latine pour se proposer de mener un projet de l'envergure d'Oscurana, font de ce livre une perle unique.
Peut-être une perle chère, inaccessible dans son édition spéciale pour tout le monde, mais un effort inégalable pour montrer la réinvention d'un monde éditorial qui requiert une rénovation des paramètres, dans lesquels nous ne sommes plus seulement en concurrence, mais aussi des collaborateurs, avec comme unique objectif que les livres de photographie ne font pas qu'exister : ils se réinventent de manière constante.
Depuis notre humble tribune, nous ne pouvons qu'applaudir ce type de projet.
Longue vie aux projets collectifs d'édition de qualité !
Longue vie aux vrais amants du livre photo !
Écrivaine et photographe, Oleñka Carrasco met son accent au service de Viens Voir une fois par mois, pour la découverte de photobooks, livres d'artistes, livres de photo-texte, mais aussi des éditeurs indépendants. Bref, toutes les tendances de l'objet livre. Fanatique de la création d'histoires, elle sera notre guide d'exploration dans le monde des livres.
Reply to: hola@olenkacarrasco.com/ Oleñka est sur Instagram
*
Versión española
Oscurana, de Antoine d'Agata : un proyecto editorial que rompe esquemas desde Latinoamérica.
Los dos primeros días en Unseen 2018 ya se habían esfumado. Finales de septiembre y Amsterdam nos recibe con un frío y una lluvia notables. Nos arremolinamos todos en los espacios de la Westergasfabriek. Yo me paseo en el espacio de los libros, busco perlas entre los Dummies de este año, vuelvo a ver a los amigos de editoriales conocidas…Hasta que algo llama mi atención. Un stand lleno de colores demasiado vivos, visitantes y fotógrafos que explicaban sus libros. Fue así como descubrí Inframundo, y casi de forma inmediata constaté que mi flechazo editorial del Festival había llegado. 
Inframundo es una editorial que nace en México en el año 2016, partiendo del maravilloso proyecto Incubadora de Fotolibros lanzado por La Hydra.
Comencemos por el principio.  Hydra "es una plataforma para generar proyectos relacionados con el medio de la fotografía, basada en la reflexión, el diálogo y la colaboración entre personas, asociaciones, instituciones y editoriales. Un espacio incluyente, flexible y abierto para abrir canales en la comunidad fotográfica." Un espacio polivalente que hace latir la fotografía en el corazón del DF mexicano.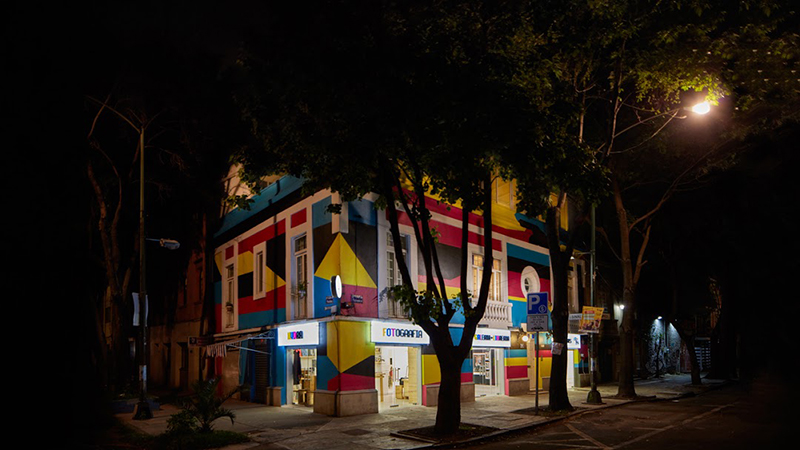 Una de sus artífices principales es la fotógrafa Ana Casas Broda con quien tuve una conexión inmediata, el tiempo que nos quedaba en el festival era muy poco, y ella me prometió que vendría con una gran sorpresa a Paris Photo este año y que ese sería nuestro momento.
Yo me quedé en ascuas, ya me parecían un regalo las ediciones numeradas que traían a Unseen, formatos innovadores pero completamente legibles, trabajos poderosos de tantos fotógrafos y fotógrafas latinoamericanos que no logran llegar hasta nosotros…
¿Qué se podían traer entre manos?
Paris Photo llegó, nos volvimos a encontrar, y conocí Oscurana.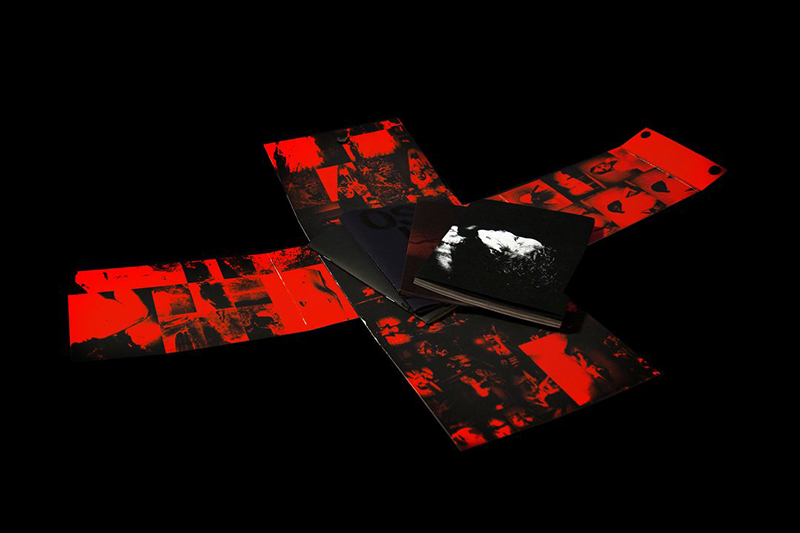 Oscurana es una hermosa caja diseñada completamente por Ramón Pez para Inframundo, un acabado en cartón kraft, con impresiones fotográficas interiores super contrastadas en rojo y negro. En el interior 6 libros y un Manifesto. Esta caja sorpresa es una edición especial de 100 ejemplares que contiene ni más, ni menos, que la recopilación de 35 años del trabajo fotográfico de Antoine D'Agata en Latinoamérica.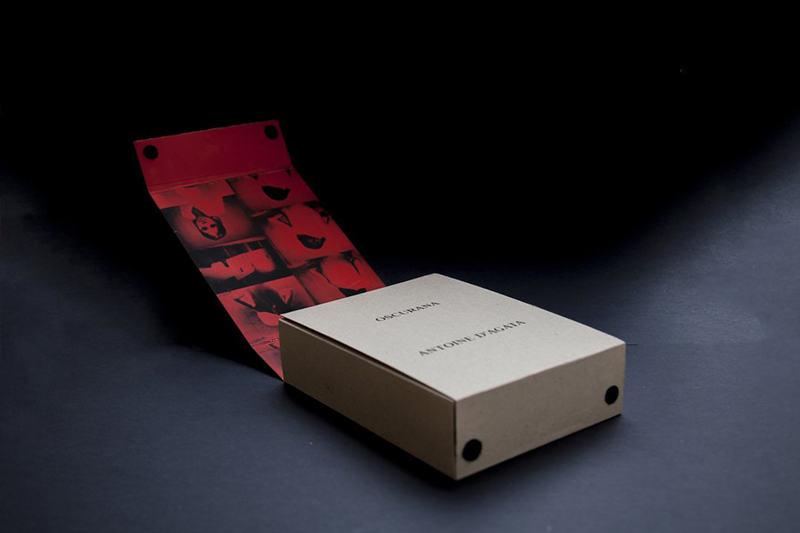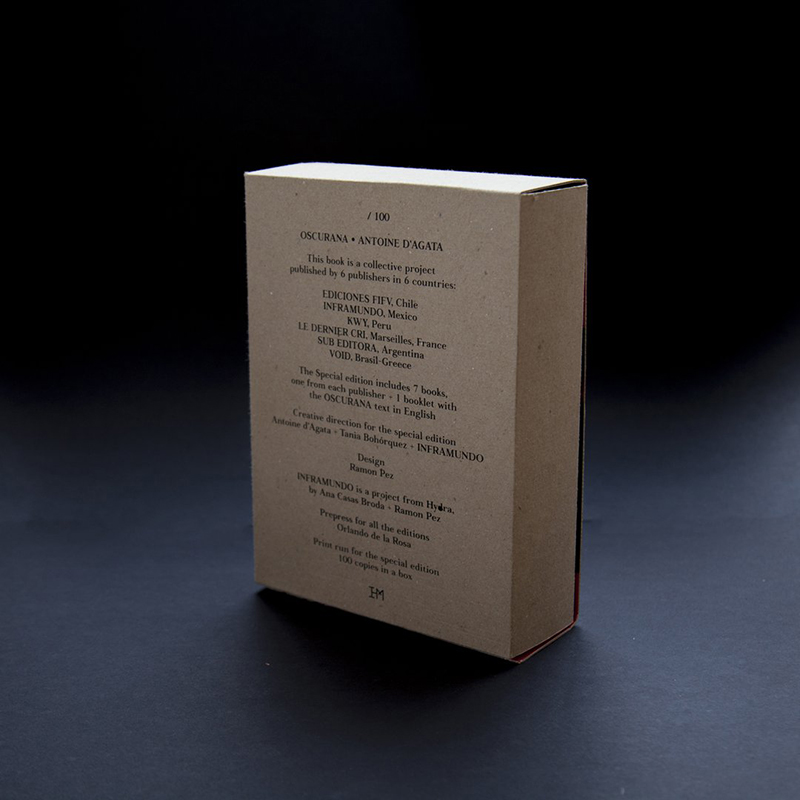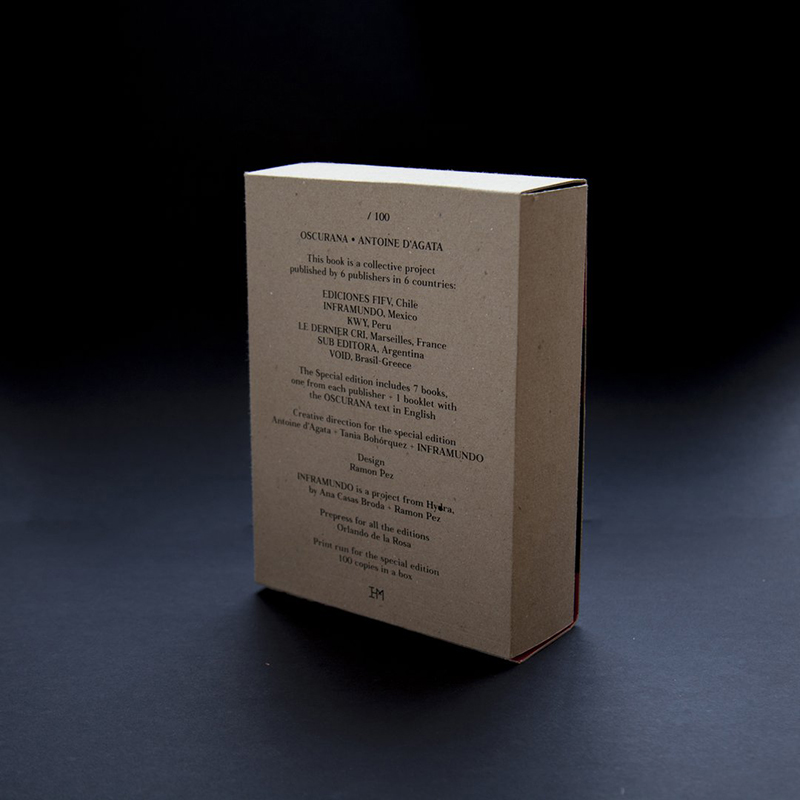 Antoine D'Agata es un fotógrafo con muchos tipos de fotolibros en su haber, ¿por qué Oscurana se vuelve diferente, especial?
En un concurso de circunstancias Ana Casas descubre que a D'Agata le interesa mucho la interpretación que de su trabajo podrían hacer distintas editoriales. Ella se da cuenta que desde hace tiempo quiere embarcarse en un proyecto colectivo en el que pequeñas editoriales de distintos lugares de Latinoamérica produzcan de manera local un mismo libro. Antoine D'Agata tiene el contenido, Inframundo coordina el continente, y es así como 6 editoriales se embarcan en la aventura de editar e interpretar cada una a su manera 1 libro que contenga esos 35 años de fotografía de D'Agata.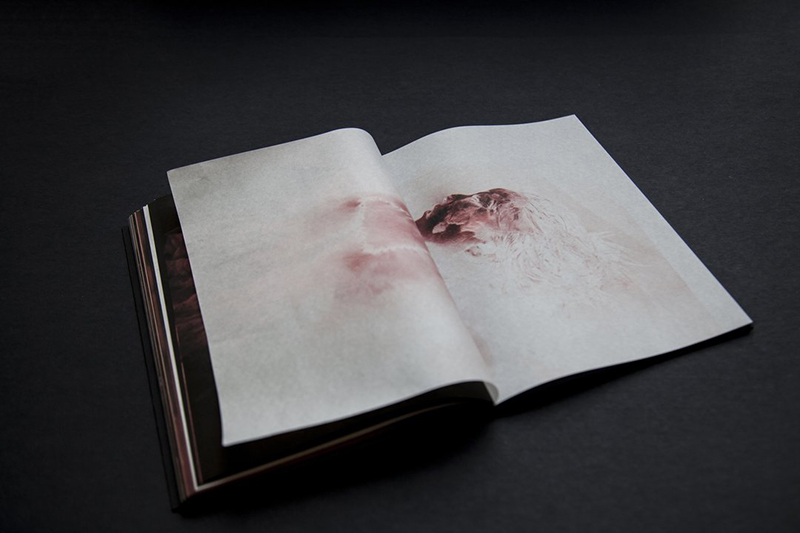 Cada libro se produce de manera local, con materiales autóctonos, diseñadores y papeles propios de cada país, las únicas reglas: el tamaño, y el mismo corpus de imágenes. Las 6 editoriales pueden decidir con qué imágenes del corpus trabajar y el tratamiento utilizado para cada imagen siguiendo la línea narrativa de su proyecto.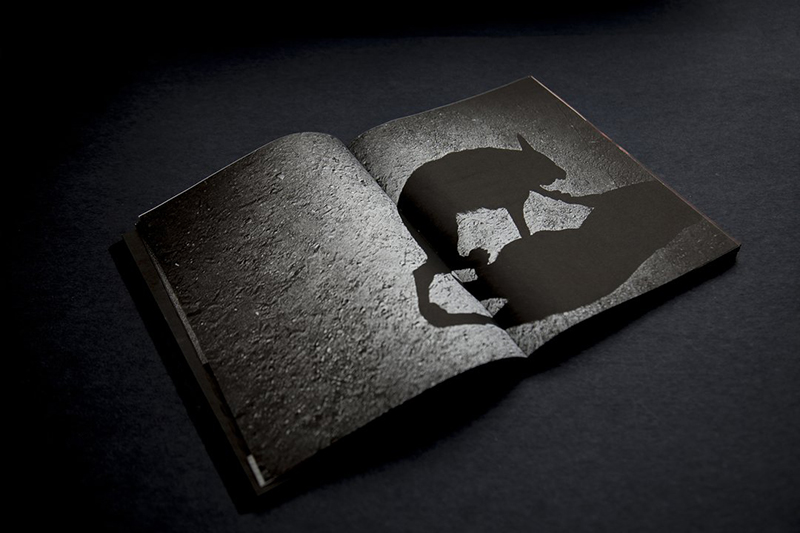 Desde cada país, cada editorial contó con unos pocos meses para trabajar en en su libro, la fecha de salida, el punto de encuentro de cada uno de esos libros era Paris Photo 2018, en el marco de esta feria se encontrarían todos, al fin, para que cada libro se volvería un todo en la caja de Inframundo.
Fue así como EDICIONES FIFV, Chile ; KWY, Perú ; LE DERNIER CRI, Francia ; SUB, EDITORA, Argentina ; VOID, Brasil-Grecia coordinados por INFRAMUNDO, México logran reunir los primeros 47 ejemplares de un libro único, que logra venderse en su totalidad en Paris Photo.
En las particularidades de cada edición, Ana me cuenta que Sub Editora trabajó su libro en risografía, Inframundo trabaja su ejemplar en InkJet e imprime en una combinación muy especial de papeles mexicanos únicos, las cuatro editoriales restantes trabajan en OffSet.
Me pregunto si hay imágenes de D'Agata que se repiten, a lo que Ana me responde que sí, siempre con un tratamiento diferente, según la editorial.
-Ana, ¿por qué D'Agata?
-Además del respeto que profeso por su trabajo, fue maravilloso encontrarnos en un punto en el que su trabajo dialogaba con unas ganas inmensas de trabajar en un proyecto editorial colectivo.
-Entonces, este formato puede repetirse con otro libro.
-No, para nada, este libro son 100 ejemplares, hechos de esta manera coincidiendo con nuestras búsquedas, la del fotógrafo, la nuestra, pero si bien nuestro interés es continuar trabajando por la estimulación de la creación editorial local, cada libro tiene su personalidad y su forma de mostrarse. Repetiremos proyectos colectivos sí, pero habrá que esperar para descubrir qué forma tendrán.

Descubrir los hermosos proyectos pedagógicos de Hydra, saber que cada año se abre una convocatoria internacional de la Incubadora de Fotolibros en la que confluyen actores importantísimos del mundo de la edición de fotolibros a nivel mundial (Lukas Birk, Bruno Ceschel, Miguel Ángel Esteban, Yumi Goto, Calin Kruse, Álvaro Matías, Alfonso Morales, Ramon Pez, Timothy Prus, Ramón Reverté, Markus Schade, Juan Valbuena) en México, hojear cada uno de los proyectos que pasando por esa Incubadora se transforman en auténticos fotolibros únicos de Inframundo y asistir a la confluencia de pequeñas editoriales que de forma local, franqueando todas las dificultades que conlleva la impresión de un libro en América Latina, se proponen un proyecto de la envergadura de Oscurana, hacen de este libro una perla única. Quizás una perla cara, no accesible en su edición especial para todo el mundo, pero un esfuerzo inigualable para mostrar la reinvención de un mundo editorial que requiere una renovación de parámetros, en los que ya no sólo somos competencia, sino también colaboradores, con un único objetivo que los libros de fotografía no sólo existan, si no se reinventen de manera constante. Desde nuestra humilde tribuna, no podemos sino aplaudir este tipo de proyectos.
¡Larga vida a los proyectos colectivos de edición de calidad!
¡Larga vida a los verdaderos amantes del fotolibro! 
Escritora y fotógrafa, Oleñka Carrasco pondrá su acento al servicio de Viens Voir una vez al mes para descubrir fotolibros, libros de artistas, libros de foto-texto, así como editores independientes y festivales. Su principal interés: las tendencias del libro como objeto. Fanática de contar historias, ella se volverá nuestra guía de exploración en el descubrimiento del mundo de los libros.
Reply to: hola@olenkacarrasco.com/ Oleñka está en Instagram
*
English Version
The first two days in Unseen 2018 were already gone. Late September and Amsterdam welcomes us with a noticeable cold and rain. We all swirled in the spaces of the Westergasfabriek. I walk in the space of the books, I look for pearls among the Dummies of this year, I see again the friends of known publishing houses…Until something catches my attention. A stand full of too vivid colours, visitors and photographers explaining their books. That's how I discovered the Underworld, and almost immediately I saw that my editorial arrow of the Festival had arrived.
Inframundo is a publishing house that was born in Mexico in 2016, starting from the wonderful project Incubadora de Fotolibros launched by Hydra.
Let's start from the beginning.  Hydra « is a platform to generate projects related to the medium of photography, based on reflection, dialogue and collaboration between people, associations, institutions and publishers. An inclusive, flexible and open space to open channels in the photographic community ». A multipurpose space that makes photography beat in the heart of Mexico City.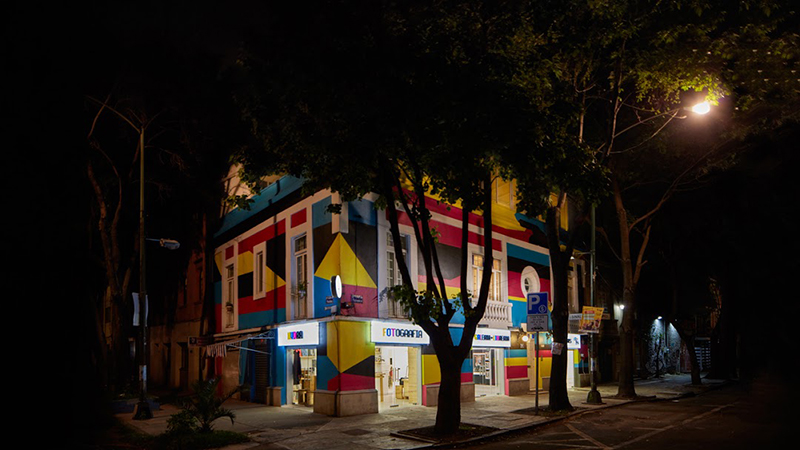 One of its main architects is the photographer Ana Casas Broda with whom I had an immediate connection, the time we had left in the festival was very little, and she promised me that I would come with a big surprise to Paris Photo this year and that this would be our moment.
I was left in suspense, the numbered editions brought to Unseen seemed like a gift to me, innovative but completely legible formats, powerful works by so many Latin American photographers who can't get to us?
What could they be up to?
Paris Photo arrived, we met again, and I met Oscurana.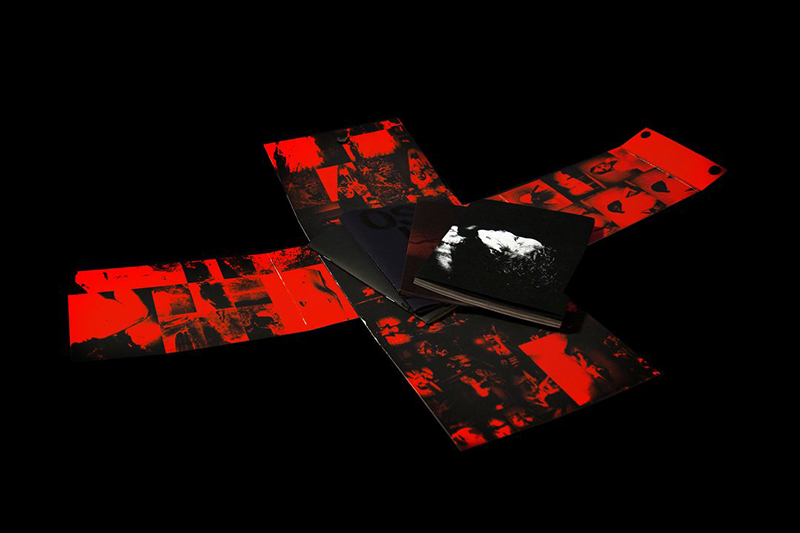 Oscurana is a beautiful box designed completely by Ramón Pez for Inframundo, finished in kraft cardboard, with super contrasting interior photographic prints in red and black. Inside there are 6 books and a Manifesto. This surprise box is a special edition of 100 copies containing no more, no less, than the 35-year compilation of Antoine D'Agata's photographic work in Latin America.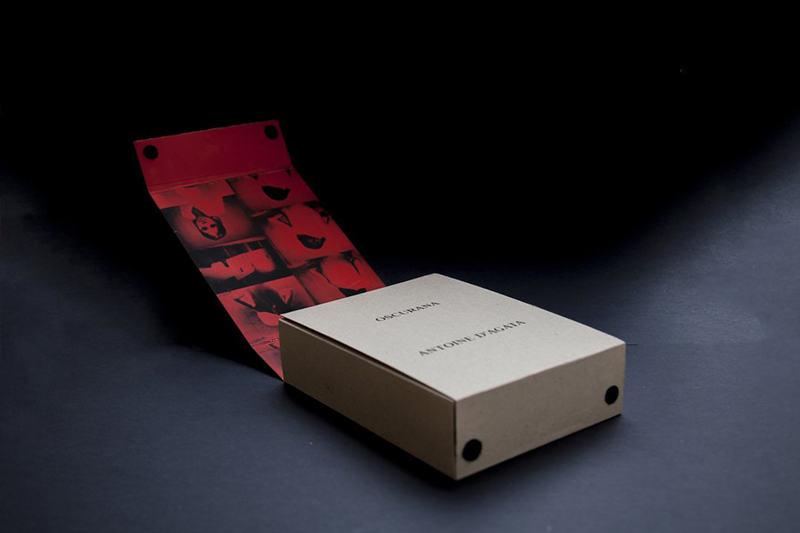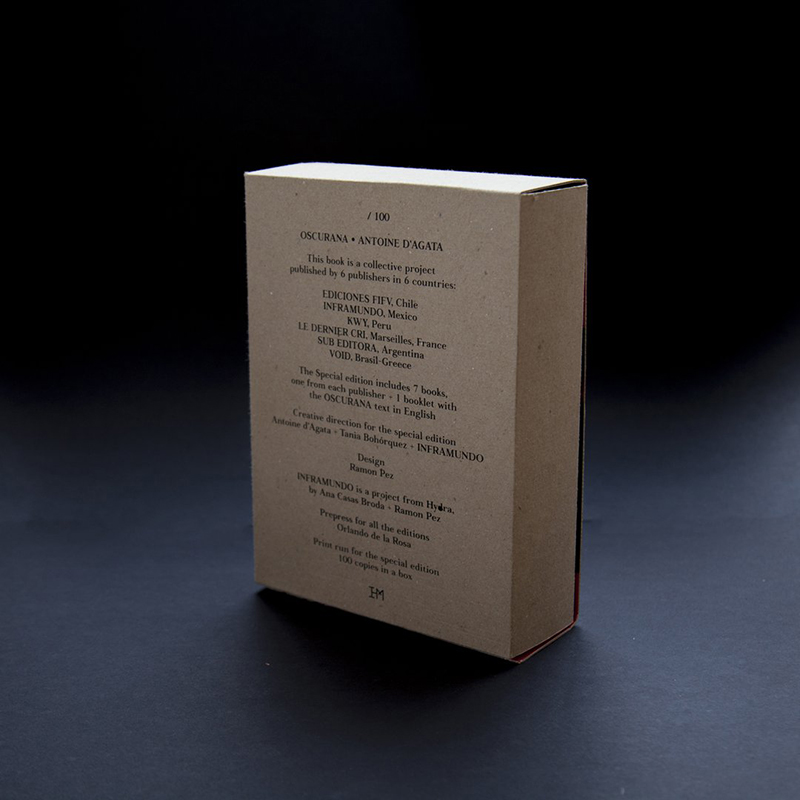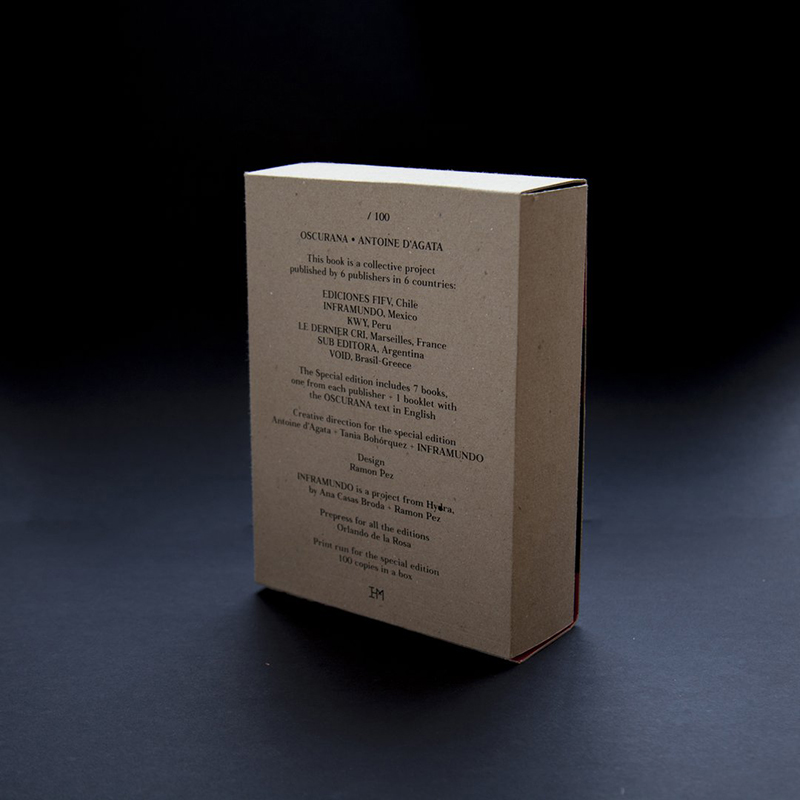 Antoine D'Agata is a photographer with many types of photobooks to his credit, why does Oscurana become different, special?
In a contest of circumstances Ana Casas discovers that D'Agata is very interested in the interpretation that different publishers could make of his work. She realizes that she has long wanted to embark on a collective project in which small publishers from different parts of Latin America produce the same book locally. Antoine D'Agata has the content, Inframundo coordinates the continent, and this is how 6 publishers embark on the adventure of editing and interpreting each in its own way 1 book containing those 35 years of D'Agata photography.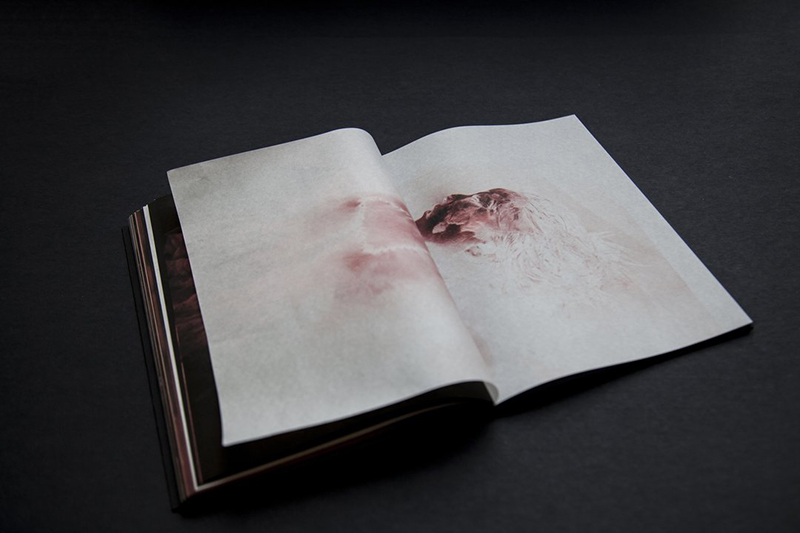 Each book is produced locally, with autochthonous materials, designers and papers specific to each country, the only rules: size, and the same corpus of images. The 6 publishers can decide with which images of the corpus to work and the treatment used for each image following the narrative line of their project.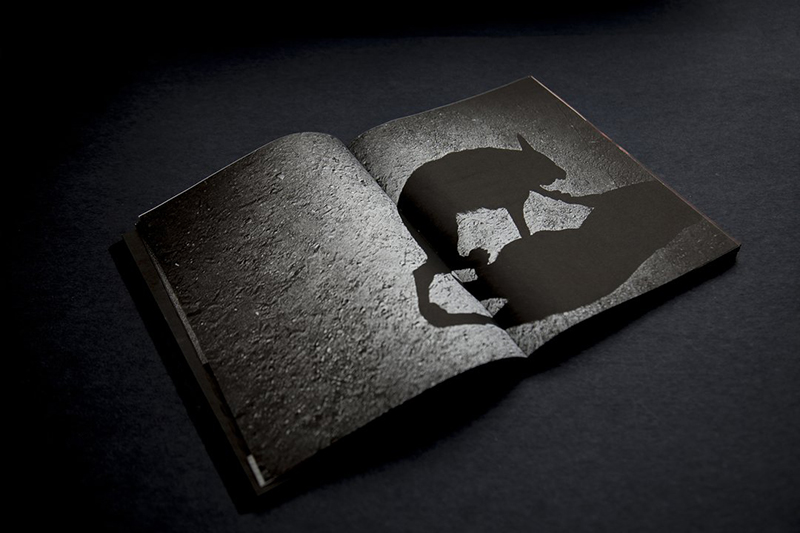 From each country, each publisher had a few months to work on its book, the date of departure, the meeting point of each of these books was Paris Photo 2018, within the framework of this fair would meet all, at last, so that each book would become a whole in the box of Underworld.
Thus, FIFV EDITIONS, Chile ; KWY, Peru ; LE DERNIER CRI, France ; SUB, EDITORA, Argentina ; VOID, Brazil-Greece coordinated by INFRAMUNDO, Mexico managed to gather the first 47 copies of a single book, which managed to sell in its entirety at Paris Photo.
In the particularities of each edition, Ana tells me that Sub Editora worked her book in risography, Inframundo works her copy in InkJet and prints in a very special combination of unique Mexican papers, the remaining four publishers work in OffSet.
I wonder if there are images of D'Agata that are repeated, to which Ana replies yes, always with a different treatment, depending on the publisher.
-Ana, why D'Agata?
-In addition to the respect I profess for her work, it was wonderful to find us at a point where her work dialogued with an immense desire to work on a collective editorial project.
-So, this format can be repeated with another book.
-No, not at all, this book is 100 copies, made in this way coinciding with our searches, that of the photographer, ours, but although our interest is to continue working for the stimulation of local editorial creation, each book has its personality and its way of being shown. We will repeat collective projects, yes, but we will have to wait to discover what form they will take.

To discover the beautiful pedagogical projects of Hydra, to know that every year an international call for the Incubator of Photobooks is opened in which very important actors of the world of the edition of photobooks at world level (Lukas Birk, Bruno Ceschel, Miguel Ángel Esteban, Yumi Goto, Calin Kruse, Álvaro Matías, Alfonso Morales, Ramon Pez, Timothy Prus, Ramón Reverté, Markus Schade) converge, Juan Valbuena) in Mexico, browse through each of the projects that go through that Incubator become authentic unique Inframundo photobooks and attend the confluence of small publishers that locally, overcoming all the difficulties involved in printing a book in Latin America, propose a project the size of Oscurana, make this book a unique pearl. Perhaps an expensive pearl, not accessible in its special edition for everyone, but an incomparable effort to show the reinvention of a publishing world that requires a renewal of parameters, in which we are no longer only competitors, but also collaborators, with a single objective that photography books not only exist, if they are not constantly reinvented. From our humble tribune, we can only applaud this type of project.
Long live quality collective publishing projects!
Long live the true lovers of the photobook!
Writer and photographer, Oleñka Carrasco will put her emphasis on the service of Viens Voir once a month, for the discovery of photobooks, artists' books, photo-text books, but also independent publishers. In short, all trends of the book object. Fanatic about creating stories, she will be our guide to exploring the world of books.
Reply to: hola@olenkacarrasco.com/ Oleñka is on Instagram